Belarusian Sports Stars Called For Strike
11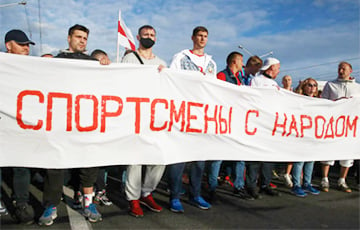 Everyone can go on strike.
Belarusian sports stars have supported the strike movement and urged Belarusians to prepare to strike.
Free Athletes of SOS_BY and the Sports Solidarity Foundation have issued a statement:
"Belarusians, for a year we have been moving towards the same goal and want to be free, but for some reason we hope that someone else will organize this freedom for us".
Aliaksandra Herasimenia, Belarusian swimmer, three-time Olympic medalist, winner of gold medals at world and European championships:
"In sports, when we go to the court, arena or stadium, we can only count on ourselves. We know our teammates, their courage, their strength, are there for us. The coach and his cues, our loved ones, their faith. However, you always win by yourself - with your own efforts".
Alena Leuchanka, bronze medalist of European Basketball Championship:
"Free Athletes of SOS_BY and the Sports Solidarity Foundation join the strike movement. According to Article 41 of the Constitution of Belarus, citizens have the right to protect their economic and social interests, including the right to strike.
We will go on strike and urge everyone to join!"
Katsiaryna Snytsina, ex-captain of the Belarusian national basketball team, bronze medalist of the European Championship:
"We can see that Lukashenka is not going to leave, but continues to freeload off the people. The purpose of the strike is to restore justice and the rule of law, the release of innocent people from prison, protecting our rights to safe labor and decent pay. Everyone can strike: factory workers, doctors, teachers, transport workers, employees of private companies, sole traders and, of course, athletes".
Kanstantsin Yakauleu, head coach of the Vitsiaz handball club:
"Everyone must strike! Now this is the only safe and most effective way to fight the dictatorship. Lukashenka must leave, it's enough of serving him, enough of feeding him, enough of making him money, enough of sponsoring violence".
Arthur Udrys, bronze medalist at the World Club Volleyball Championship:
"The regime is pulling out the "dissenters" one by one. It makes a show of torturing them, and it stands to benefit from that. What the regime is really afraid of is mass strikes. That is because it does not know what to do with them. Massiveness guarantees security. The system doesn't have that many handcuffs. The whole country cannot be fired for absenteeism".
Andrei Krauchanka, Olympic decathlon silver medalist:
"Belarusians, if not by ourselves and if not now, no one will ever set us free! Changes are our choice and our responsibility. Let's get ready to go on strike with the whole country. There are more of us!"