Free Athletes Demand IOC Disqualify Lukashenka Functionaries Who Threatened Tsimanouskaya
16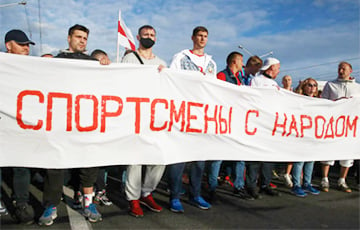 The BSSF (Belarusian Sport Solidarity Foundation) is also calling for a revocation of their accreditation for the Olympics.
The Belarusian Sport Solidarity Foundation has addressed the IOC demanding a life-long disqualification for Dzmitry Dauhalenak, Yury Maisevich, Arthur Shumak and Vasil Yurchyk. They were involved in the case of the Belarusian athlete Krystsina Tsimanouskaya, Tribuna reads.
The Foundation also seeks an accreditation deprivation of the mentioned specialists.
Yurchyk is the Head of the International Relations Department of the NOC of Belarus, and Shumak is the Deputy Director of the ROC Athletics Department. Both saw Tsimanouskaya off by plane to Belarus today.
Yury Maisevich is the head coach of the Belarus national team, and Dzmitry Dauhalenak is the chief of the Belarusian mission at the Tokyo Olympics.