The Authorities Organized a Strike at the Miory Metal Rolling Plant With Their Own Hands
23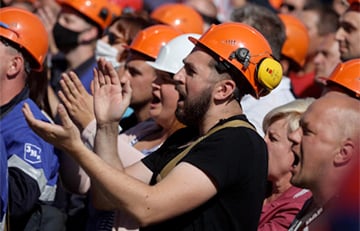 Production is halted for three weeks.
The Nick and Mike Telegram channel talks about the situation at the Miory Metal Rolling Plant, which Lukashenka was supposed to visit, but instead, security officials arrived at the enterprise and detained the management:
- Well, they are stupid. So the first official strike happened. Moreover, it is absolutely man-made, as is the case with the junta and "strong business executives."
Meanwhile, from August 2, all production will stop for three weeks. Most of the workers (and this is about 600 people) are sent home with a payment of 2/3 of the salary. There are two reasons - on the one hand, there is no raw material. On the other hand, sales fell and a lot of products accumulated in warehouses. Either the sanctions continue to fail, or the management nevertheless made sense of something in their work.
Nobody knows what will happen to the plant after August 20. The main rumor is a merger with BMZ. Consolidation, holdings, concerns - everything that "strong business executives" like.
In general, this is a vivid example of how the junta will bring the economy with such an approach. The Hrodna Azot has one accident after another. BelAZ will soon be molded from plasticine - the suppliers refuse to cooperate one after another.
At Belaruskali, they are trying to eliminate all Yara's safety requirements. However, the financial situation is dire. European banks actually check whether the codes of each specific batch are subject to sanctions and require confirmation that the payment is not made for European loans. So far, we are only talking about payments in euros. But U.S. sanctions are ahead, and it's getting scary again.
Well, they are stupid.