Write Large
23
Iryna Khalip
26.02.2021, 23:09

19,784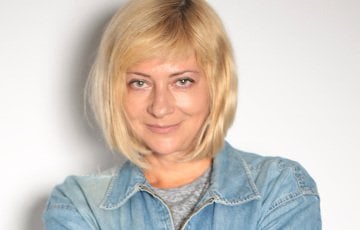 And take to the streets with portraits.
The bitterest words I have heard lately are the words of Ihar Prozhennikau in court. Ihar said that he realized in prison that no one needed him except his mother. Ihar is 21. On February 17, he was sentenced to one and a half years in prison.
Have you heard anything about Ihar Prozhennikau before? I don't think so. This young man was detained on October 4 after the March for the Liberation of Political Prisoners. He was sentenced to a year and a half for taping up the surveillance camera on Okrestina. That's all we know about him. Even the news about another political verdict slipped through the news sites. That day, Viktar Babaryka's trial began, and the information space was filled with this scandalous case. It was the day the debates in the case of Yekaterina Andreeva and Daria Chultsova ended. So, the conviction of Ihar Prozhennikau was unnoticed, just like his four and a half months in the detention centre on Volodarskogo. Only a person who never felt our support could have said that bitter phrase about his mother. We didn't write him a letter. We didn't know who he was.
Today, there are 250 people on the list of political prisoners. The real number is much higher. It must have exceeded a thousand. Many people get jailed under Articles 363 and 364 - "resistance to an officer of law-enforcement bodies" and "violence or threat of violence against a law enforcer" or terrorism. Unfortunately, human rights activists do not hurry to recognize those arrested under these articles as political prisoners. They are careful: what if one grabbed a mask? Remember at least the numerous people arrested in the case of Mikalai Autukhovich. He was at least friends with some of them, and he barely knew others. For example, pensioner Halina Derbysh has already become a celebrity in the detention centre: one called her "grandmother-terrorist". Does she get much support from us at large? She is not formally a political prisoner. Well, I'm not talking about human rights defenders now, and especially not about their criteria. I'm talking about you and me.
We are looking for news about media personalities. We want to know what is happening to them. We want to support them and write letters to them. We send hundreds of letters to Viktar Babaryka (what percentage reaches the addressee is another question). Young people who were not known before getting little or no letters. These guys were protesting for the first time in their lives. They might have been with us in 2010 or 2006, but they were just kids then. These boys and girls grew up, took to the streets, felt like part of the people, took responsibility, stood in the coupling, and went to jail. Now they are our heroes and our future. But we don't know them by sight or name.
And that's why young Ihar Prozhennikau says in court that no one needs him. We didn't allow him to feel the opposite. Let's fix that.
European parliamentarians have had a tradition since 2010 to patronize Belarusian political prisoners. It is such a symbolic but pleasant gesture. Now they also become trustees of our political prisoners. So why can't we do the same? It is much easier for us than for the European deputies. To begin with, we need to find the names of those detained at the protests and those who took part in the resistance, on the news sites, social networks, and so on. Choose any surname. Or we may gather in a large group, write down the name of a prisoner and draw cuts. You would pick a prisoner. Start writing letters to this person. Regularly, regardless of the weather until the release. One can also send at least small money orders. However, letters come first and foremost. They will not make a person feel lonely and abandoned, which is especially bitter after walking through the city in a hundred thousand columns of like-minded people and feeling unity.
There is one more thing we all have to do together right now. Now, Dzmitry Hopta is in pre-trial detention centre-3 in Homel. He is a disabled person. The 21-year-old has the intellect of a six-year-old. That is, a first-grader is in prison as a political one. When he was detained, he didn't understand what was going on. He immediately confessed because the policemen promised him the release. By the way, they released him before the trial. Why should one cope in a detention centre with a kid with bedwetting? When they arrested him in the courtroom, he cried and asked for his mother's help. Let's all send Dzima some colourful postcards. Colourful and cheerful. No long texts. Write large. A few words of encouragement: "Dzima, we're with you!", "Dzima, stay strong!", "Dzima, we're waiting for you!" They are the easiest and most understandable. (Address: 246003, Homel, 1a Knizhnaya Street.) The little boy Dzima, who can never grow up, will not be so scared in prison. We'll feel better at large.
On March 25, Belarus will take to the streets. I think that there should be portraits of all political prisoners on our streets. No exceptions. The authorities want to divide us even here: famous political prisoners and those behind bars for the first time. The number of the latter is much higher. The rotten regime takes them as an example to show society: if you go to a demonstration, we will lock you up, and people will forget you. Well, the devil a bit. We won't forget. And we won't forgive you, of course.
Iryna Khalip, especially for Charter97.org