Lukashenka: Ukrainian Military Themselves Asked Russia To Save Crimea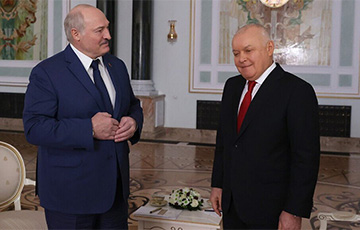 The usurper has told this to the Russian propagandist Kiselev.
The Ukrainian military themselves asked their Russian colleagues in 2014 to "save Crimea from a NATO invasion," and they reported this to Vladimir Putin, claims Lukashenka, who has lost his mind, calling the occupation of the peninsula, not recognized by the international community, a "rescue." The impostor said this in an interview with Russian propagandist Kiselev.
Lukashenka noted that Crimea passed to Russia "without the resistance of the Ukrainian military, because there was an agreement with the Russian military."
"They contacted the Russians, it was not at the highest level... The military. There was a talk (as usual... and a conversation started, the Ukrainians are great, of course), they warned the Russians that Crimea will not be Russian if we do not take certain actions. It won't be Ukrainian either. Whose? NATO's. At that time, NATO was tooled for Crimea. And after another meeting with the Russians... They suggested: you tell your president there that the Crimea issue needs to be resolved. According to my information, they reported to the president of Russia," said Aliaksandr Lukashenka.
Lukashenka also spoke out about Zelensky.
"Well, what kind of politician is he? He's just a person who got into this mess by accident. I think he is an absolutely accidental person in politics. Just like Volodya Zelenski has turned out to be an absolutely accidental person today, although he is the head of state," said Lukashenka.