Belarusian Authorities Prepare Another Assault On Border With Poland
31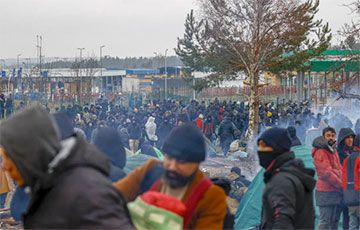 (Updated) What is happening on the Belarusian-Polish border?
Lukashenka's regime continues provocations on the Belarusian-Polish border.
Polish border guards report 217 attempts to break through from Belarus. Near Czeremsza, it came to a major attack by an aggressive group of more than 200 illegal immigrants, operating under the leadership of the Belarusian special services.
The Charter97.org website has collected the main news about what is happening on the border of Belarus and Poland.
13:42 Lukashenka's lookalike was found among the migrants in Bruzgi. A photo of an illegal migrant who looks like a dictator has appeared in the media.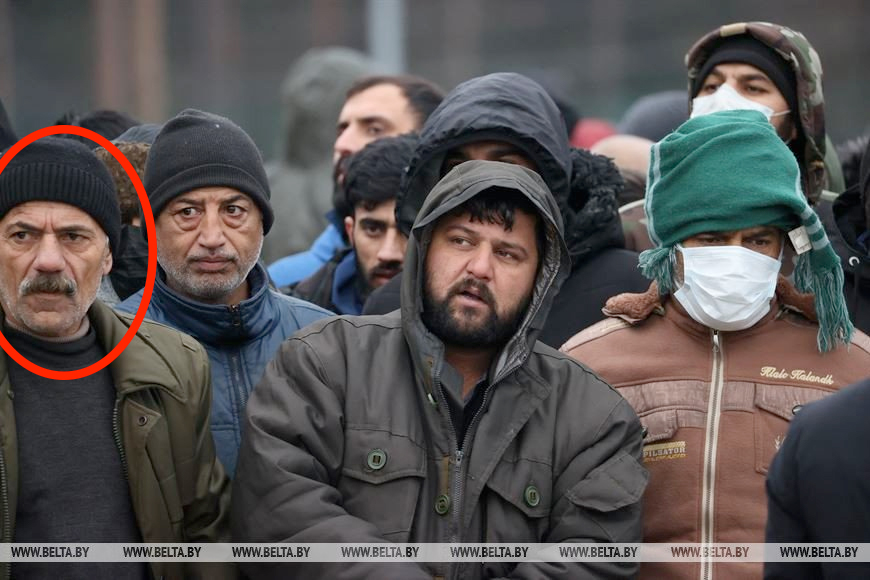 13.09 In Bruzgi, Lukashenka addressed the migrants and promised support to those who would still want to go to Germany.
The dictator said that the Belarusian side would not send them to Iraq by force.
"If you want to go to Europe, then go. In no case will we detain you, tie your hands, load you on a plane and send you home. That's the whole philosophy," said the dictator.
12.39 Today the Cockroach is visiting a migrant camp at the Bruzgi logistics center.
"For some reason, their faces cannot be called joyful," Euroradio informs about the reaction of migrants to the visit of the usurper, on whose orders they are beaten, thrown onto barbed wire and fed with expired moldy canned food.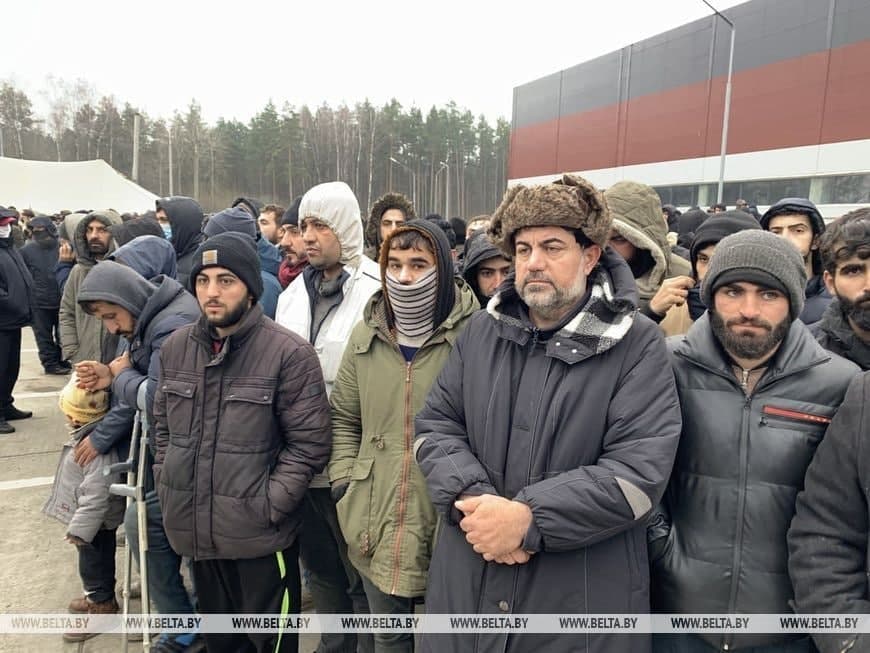 12.18 Lukashenka arrived in Bruzgi to inspire migrants for a new assault on the Polish border.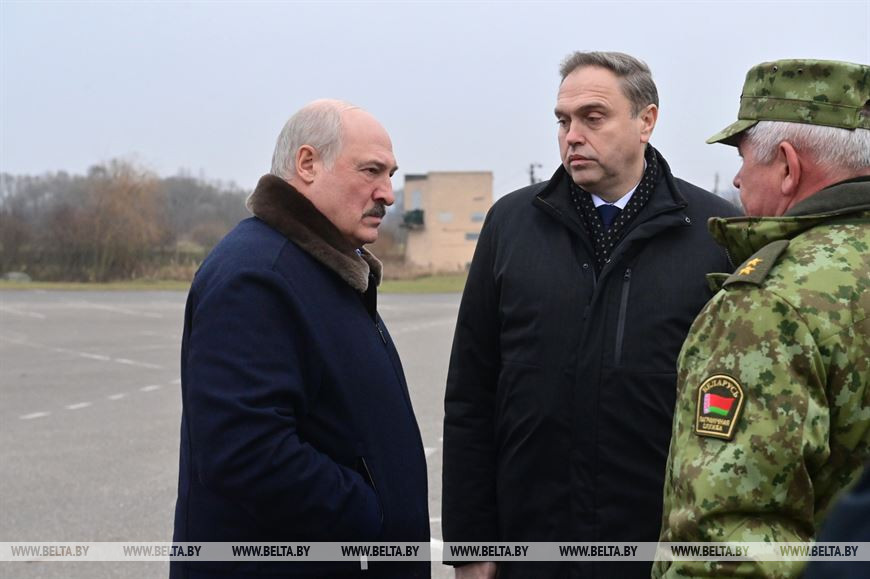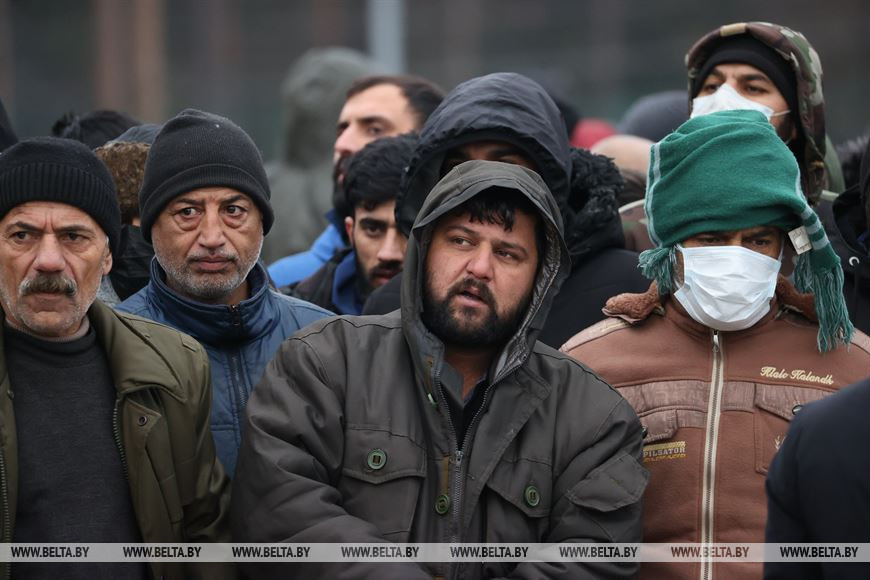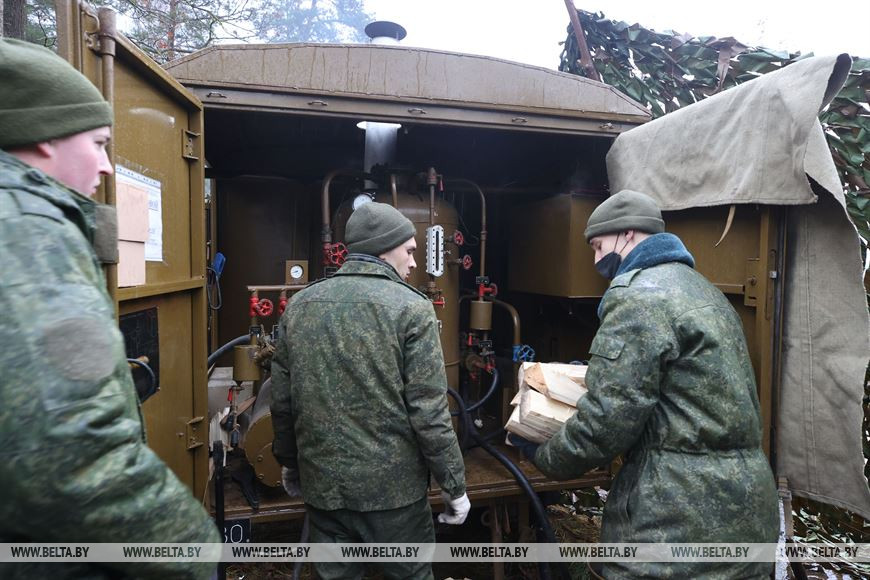 12:10 The commandant of the Lithuanian border service Rustamas Lyubayevas said that at present there are about 1,500 illegal immigrants near the border of Lithuania with Belarus. Over the past 24 hours, 55 illegal border crossings have been prevented.
11.24 Correspondent of the newspaper Frankfurter Allgemeine Zeitung Friedrich Schmidt visited the transport and logistics center "Bremino-Bruzgi".
Migrants say that Belarusian border guards forced them to storm the border, beat and set the dogs on them with dogs. It was the beaten people who were sent from Belarus to Iraq. At night, single men are gathered in the TLC and forced to go to the border.
11:09 There was a video of Polish border guards quelling a night-time migrant riot in Wenjin.
❗️Funkcjonariusze Straży Granicznej przy wsparciu innych służb, udaremnili wczoraj próbę samowolnego, siłowego oddalenia się z ośrodka w Wędrzynie grupy agresywnych cudzoziemców.
W ośrodku Wędrzynie przebywa 600 mężczyzn, ponad połowa z nich to ob. Iraku.#NaStrażyBezpieczeństwa pic.twitter.com/JpCGATwDvZ

— Straż Graniczna (@Straz_Graniczna) November 26, 2021
10.50 Migrants who returned to Iraq tonight spoke about their experiences in Belarus.
A young Yezidi from Kurdistan told the Kurdistan24 TV channel that the Belarusian soldier is no different from ISIS: "The Belarusian soldier is no different from Daesh (the same as ISIS, only in Arabic - edit.). There is no such beatings and violence that we would not be subjected to. It is snowing there now, and some migrants are still not allowed to return. After walking 10 kilometers, I was able to escape. He told us: "You have neither water nor bread. For you, there is only death."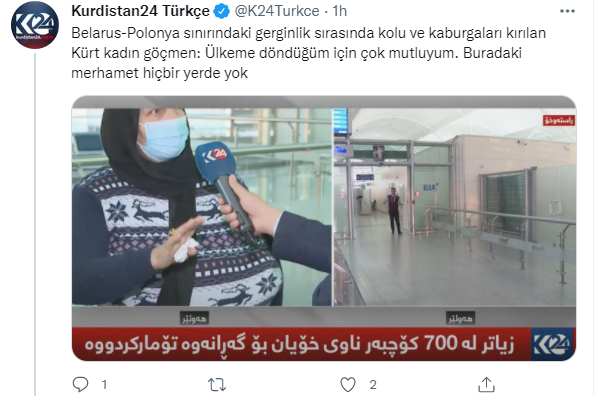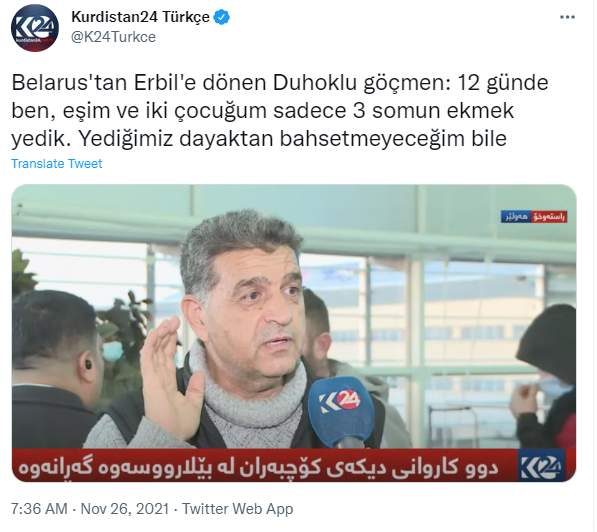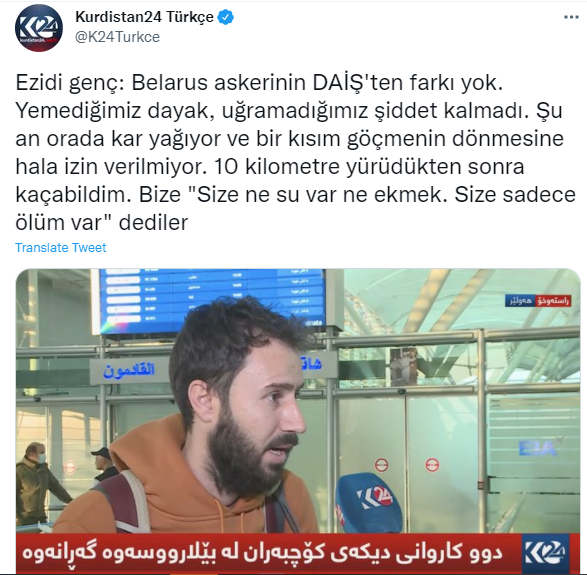 10.35 At night, 600 illegal immigrants were taken to Iraq from Belarus by air.
Kurdistan MP Chiya Sharif claims that by November 27, 1450 more immigrants from Kurdistan will leave Belarus.
10.26 Polish border guards prevented 217 assault attempts from Belarus.
The most aggressive group of migrants went for a breakthrough in the Czeremsza district.
Wczoraj tj.26.11.granicę🇵🇱🇧🇾próbowało nielegalnie przekroczyć 217 osób. #funkcjonariuszeSG wobec 12 osób wydali postanowienia o opuszczeniu terytorium Polski.
Na odcinku ochranianym przez Placówkę SG w Czeremsze grupa prawie 200 agresywnych cudzoziemców siłowo forsowała granicę. pic.twitter.com/7YK6TsWyc8

— Straż Graniczna (@Straz_Graniczna) November 26, 2021
09.41 A spokesman for the Minister-Coordinator of the Polish Special Services Stanisław Żaryn said that the Belarusian services are expanding and guarding a logistics center for migrants, organized near the Bruzgi area on the Belarusian side of the border.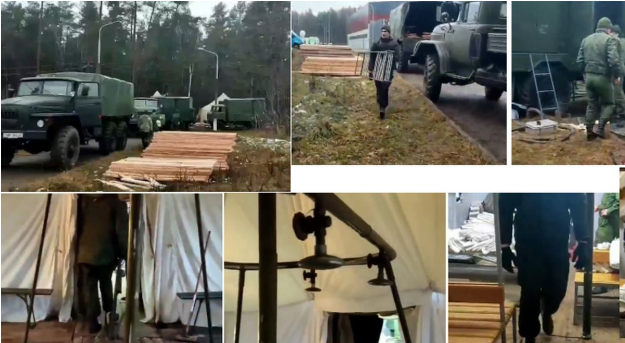 8.11 About 100 people were rioting at the Polish migrant center. During the riots, illegal immigrants tried to break the fence and escape.
The riots took place in the migrant center in the Polish town of Wenjin, Lubusz Voivodeship.
The police were involved to restore order. Towards nightfall, the riots were suppressed. No one managed to escape, according to the press service of the Lubusz police.
Po próbie sforsowania ogrodzenia strzeżonego ośrodka w Wędrzynie, w którym znajduje się ponad 600 imigrantów, sytuacja została ustabilizowana. Nikomu z tych osób nie udało się oddalić. W działaniach wspomagających @Straz_Graniczna bierze udział już ponad 500 policjantów. pic.twitter.com/zk1g7VSdOl

— Lubuska Policja (@Lubuska_Policja) November 25, 2021
Sytuacja opanowana.
Dziś cudzoziemcy umieszczeni w strzeżonymi ośrodku w Wędrzynie próbowali sforsować ogrodzenie. Osoby były agresywne.
W ośrodku znajduje się 600 mężczyzn- ponad połowa to obywatele Iraku.#funkcjonariuszeSG współdziałali z @PolskaPolicja 🤝#NaStraży pic.twitter.com/NXbopyuRIq

— Straż Graniczna (@Straz_Graniczna) November 25, 2021
Choć sytuacja opanowana dzięki koncentracji dużych sił policyjnych,to wciąż wspólnie ze @Straz_Graniczna i innymi służbami pozostajemy na posterunku. Śpijcie spokojnie! pic.twitter.com/HyKjT8FAGd

— Lubuska Policja (@Lubuska_Policja) November 25, 2021