Anna Fotyga: We Support Belarusians and Must Win This Battle
6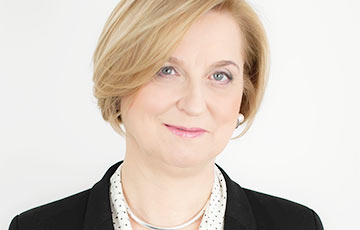 It is important to understand the essence of the special operation carried out by the Lukashenka regime.
The Lukashenka regime continues to attack the EU countries using illegal migrants. Particular pressure is put on Poland, which every day records attempts to storm its border.
How serious a threat is the Lukashenka regime for the security of the European Union? Is it worth talking to a dictator, and how to stop his blackmail?
Anna Fotyga, a member of the European Parliament, former Minister of Foreign Affairs of Poland, a member of the expert group that worked on NATO reforms, answered these questions in an interview with Charter97.org.
– Poland found itself at the forefront of the fight against hybrid attacks of the Lukashenka regime. The country managed to repel several serious attacks from the Belarusian authorities. As a person who has been working in the field of defense and security for a long time, how do you assess the success of the actions taken by the Polish authorities to protect the borders?
– I am not thinking about it as failure or success. We are obliged to protect our borders. Poland is open for those, who suffer, as you probably know very well. Along with many countries, but mostly with Lithuania, we supported the Belarusian people, who were under the wave of violence that was launched by Lukashenka on the country's society. As you might know, I am monitoring the situation and engaged in the well-being of all people protesting against the regime.
Polish people are aware of the hybrid nature of Lukashenka's attack. Lukashenka is doing it not alone, moreover, without the support of Putin, it could not have been possible. We are receptive, but it is we who are responsible for our territory. We are protecting our border and territory and we will continue doing it. It is not a matter of success, but an obligation.
– The head of the Polish government, Mateusz Morawiecki, said that today Poland protects not only its borders but also the entire European Union. Do the successful actions of Warsaw increase the significance and authority of the country in the international arena?
– I believe that the decisive behavior of governments in difficult times is a serious test. When society and authorities pass this test successfully, the credibility on the international scene increased, regarding the narratives. I wholeheartedly support the Polish government in those times. I am more than a middle-aged lady; my whole life I focused on building a stable, strong, and democratic Poland, including the communist time when I was in the Solidarity movement.
Regarding the lectures from all over the world, I believe that we fulfill our duty, moreover, we support our neighbors in the region. I have just returned from Georgia; I am paying attention to threats in Ukraine and trying to stay outspoken on this. Whenever there is a discussion about Belarus, I participate in it. The non-recognition policy of Lukashenka should be maintained. He tries to blackmail the international community, to treat the business as usual. Regardless of atrocities against Belarusians, these actions on our borders are because we supported the Belarusian democratic movement. We support honest and freedom-loving Belarusians, and we have to win this battle.
– How serious is the threat of the Lukashenka regime to our region and the European Union as a whole today?
– In my opinion, it is quite serious, and it should be treated that way. The boss in Kremlin tends to launch proxy aggressions by using leaders of other countries as it happened with Assad. This is not only my opinion; such assessment was provided by high-ranking military commanders. Similar actions and methods we saw in the Eastern border of the EU, mainly on Polish and Lithuanian.
One clarification, this is not old fashion; it is still the responsibility of the Polish people for the security of their country. We enjoy the support of NATO and the EU, but it is predominantly our role to defend our territory and border, and we do this.
– Is Brussels acting toughly and promptly enough on what is happening at the eastern borders of the EU?
– In my opinion, there is still much to be done, maybe, not in the case of the border because generally speaking the Polish border guards are considered to be one of the best trained and most effective out of all EU member states. We assisted allies in many places such as Italy and Greece. Polish border guards and police are being sent to a lot of places by Frontex. We helped our friend, Lithuania by sending border guards there.
Today it is important to have an understanding of the nature of the special operation that is maintained by Lukashenka. People who were brought to Minsk, walking through forests and next to the border are not refugees by all means. They were invited as tourists to Belarus, moreover, paid huge money for it and it is not easy to get such amount of there. Not all of them are poor people. Predominantly these people are from Iraq, Syria, and Lebanon. Only a small portion of people is from Afghanistan, and not even directly from there. Saying that there was a wave of refugees after the withdrawal of American troops from Afghanistan, simply not true. Certainly, Putin is pushing Lukashenka for such actions. What we need today is an international understanding of the situation. Simple international understanding, not to be naive, not subordinating to Lukashenka's blackmail, not treating special forces' operations "business as usual", not allowing us to be simply intimidated by other country's faces.
– How do you assess the initiative of German Chancellor Angela Merkel to talk to Lukashenka and in general the idea of talking to an illegitimate ruler?
– I already presented it to the Polish media. I always advocated non-recognition and diplomatic sanctions. Lukashenka is not a leader, he lost presidential elections. On the contrary, the Belarusian opposition inside the country and outside should be specially treated and supported.
– What mechanisms can be used both at the level of the European Union and at the level of NATO to stop the blackmail of the Belarusian dictator?
– Of course, NATO has tools. At this point, North Atlantic Alliance is closely and meticulously monitoring the situation. In terms of the EU, we require unity for the next round of negotiations of the next amendment of treaties. From my experience, we still need closer unity in terms of perception of threats when they come from Lukashenka, Kremlin, or other Russian proxies. In my opinion EU member states, NATO allies of central and Eastern Europe are much more realistic in this assessment. I would say, we are more eager to act more in solidarity with nations where oppression is taking place.
We try to understand the concerns of others, but this threat in the East is direct and existential, therefore, we and those nations need support. That refers to Russian people too. We observe the situation there, stay in touch with the Russian opposition, and know it. We try to provide support to them, although it is extremely difficult.
In my opinion, unity is crucial right now. For example, we advised the High Representative of the European Union for Foreign Affairs and Security Policy Josep Borrell not to go to Moscow. I think it was advice from most of the leaders, including all state leaders of 6 Central and Eastern member states. He decided to do otherwise, to go there which was a huge humiliation. We are not against cooperation amount countries; we think that the union is not ready enough to pass different modes of decision-making in foreign affairs because of threats.