We Must Stop Feeding Parasites
6
Artem Chernikov
20.11.2021, 13:16

18,928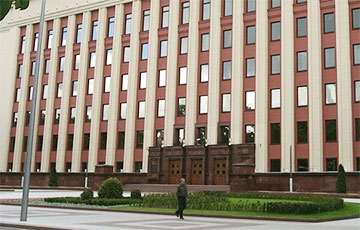 We can win with one simple action.
Each person has their own individual pyramid of needs, where everyone puts the most important at the top. However, there are examples of those things that are common to all people, regardless of wealth, profession, gender, and marital status. It is to be healthy, to have freedom of movement, freedom of speech, freedom of choice, independence of action, and, of course, self-realization. Any limitation of such needs is a violation of normal psychological and physical functions.
In Belarus, all restrictions on natural freedoms are created by one parasite. For many years, the usurper has been a big problem for the Belarusian people, which disrupts the normal life of society. In fact, in the unified healthy organism, there is one element that causes the dysfunction of other organs.
For example, I know a large number of really cool doctors work hard for little money and would never leave the country because they understand how much people need them. But the parasitic worm made it so that, despite the professionals in their field, the health care system began to severely limp, and the doctors began to flee the country after the persecution. Those who remained in Belarus simply burn out due to excessively high workloads.
Doctors, like all people, are not immune to coronavirus infection. Moreover, this is the largest risk group. In Poland, 550 doctors died during the pandemic. In Belarus, when doctors are released on sick leave only as a last resort, this number can be much higher. But even so, Lukashenka fires doctors who are not ideologically convenient for him.
Let us take education, for example. We have high-class specialists, professors, associate professors. But they are forced to do completely different things. Instead of a quality explanation of the subject, some lectures are spent on political information and, most of the time, on excessive bureaucracy. This is not to mention how many teachers were involved in the massive falsification of elections by order.
Of course, there are even ideological soldiers who went into the army to defend their people. But even there, the parasite damaged the normal functionality. Instead of defending the people, the military is throwing the citizens of the Middle Eastern countries on barbed wire in order to develop a conflict with Western states, which Lukashenka was deeply offended by.
We have already identified the primary reason for the disruption of the normal functioning of the state - Lukashenka. In 2020, the Belarusian society rebelled and launched a mechanism for the country's recovery. Each institution that suffered from the dictator's blue fingers will begin a course of rehabilitation and recovery after our final victory.
I am sure that Belarusians will build a normal state for themselves. And this can happen in a very short time. Hatred of Lukashenka is growing every day. Even brought migrants in their chats call him a cannibal, a smuggler, and a criminal. And these people did not come from the best countries, but, on the contrary, fled from possible wars. Now, having visited the Belarusian cockroach, they want to go back en masse.
So, before starting rehabilitation, it is worth completely eradicating the source of the problem - so that it does not start destroying what was built again. We can win with one simple action - stopping the country. We must stop feeding the parasite, and then he will leave the body itself, and we will begin a new life with renewed vigor.
Until then, stay at home to achieve this goal. You can call it "People's Lockdown" or "Home Strike." But one thing is absolutely clear - this will deal a colossal economic blow to the usurper and, coupled with sanctions, will help us to quickly get rid of him.
Long live Belarus!
There will be a strike!
Artem Chernikov, specially for the Basta! telegram channel