No More 'Eastern Brother' - It's 'Botox Old Man' Now
4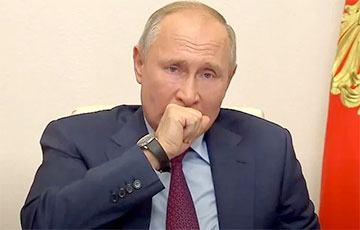 Lukashenka's propaganda insults the head of the Kremlin.
The Telegram channel Letters to Daughter talks about a strange desire to give up masks, Putin and the Belarusian TV, for which cognitive dissonance is a habitual way of existence:
- Or maybe speaking out against masks is such a cunning move. A way to get people to wear masks after all is using reverse psychology. Otherwise, no logic or common sense can explain the desire of the Belarusian authorities to swim in the anticovid river again, after last year's bathing brought them so much trouble.
And if the idea was to convince people to wear masks, then it worked out. According to my feelings, there are noticeably more people in masks now than before masks were declared to be the devilish intrigues of the collective West and an instrument of political pressure.
This is how people figured out that wearing masks was the right thing to do while the authorities were supporting the idea with all their might? And now there is no longer any painful uncertainty. You can breathe out and wear the mask calmly.
But, for the witnesses of stability, this is, of course, too subtle a game. Even the Ministry of Health suffered from a dissociative personality disorder, and the Belarusian TV suffered from cognitive dissonance. And the Ministry of Health had to edit its message three times about the abolition of the mask regime. And the Belarusian TV has to come up with such pirouettes on which you can break your unadapted head.
As a result, at first the TV tells us that there is only harm from masks, and after five minutes it says that it's only masks our bodies lacked. And in order to save the witnesses of stability from cognitive dissonance, the Belarusian authorities will introduce a mandatory anti-mask regime.
Although, just for the Belarusian TV, cognitive dissonance is a familiar way of existence. TV has long been living in this astonished state. Schrödinger's friendship with Russia began again with the Belarusian authorities, and a dubious Botox old man was immediately discovered in the place of his eastern brother.
Because TV works for the viewer. And it knows exactly how to please this viewer. And the viewer, of course, was offended after hints that the Kremlin is again ready to see him only online. Because loans are not given in such a regime, and it is difficult to portray a convincing geopolitical breakthrough.
And, of course, I would not exaggerate the importance of this exchange of insults. Because scolding on TV is a common way of having fun for the strategic allies. But I must say that earlier the Belarusian TV had much more opportunities in this sense. Because, there was always a chance to show the western vector to the ally. And now they have to watch their words so that the ally does not take offense seriously. And the Belarusian TV guys has forgotten how to watch their words.
But, in fact, not only the TV guys have forgotten how to watch their words. The Belarusian government, all as it is, is already accustomed to living in a regime where there is no time for laws, moral restrictions and rules of decency. And when the authorities transfer these principles to their relationships with the outside world, all sorts of awkward situations arise. Because, of course, the modus operandi of the Belarusian authorities can shock a fresh person living in the system of traditional moral values.