Where Are 110 Thousand Belarusian Employees?
9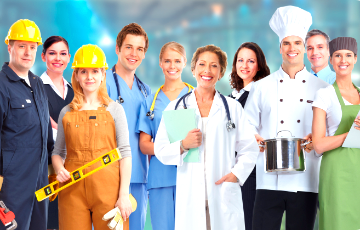 The number of people employed in the economy of Belarus is decreasing.
During the years 2020-2021, 110.4 thousand more people were fired than employed. Where did these people go?
The Belarusians and Market newspaper sought an answer to this question with experts and tried to find out the general situation in the labour market, what workers are not needed and what are in high demand.
Where did 110 thousand workers go?
The number of people employed in the economy of Belarus has been decreasing for a long time. If 4.703 million Belarusians were employed at enterprises and organizations of various forms of ownership in 2010, as well as self-employed, in 2020, their number amounted to only 4.319 million, i.e. the number of employees decreased by 384 thousand for 10 years. One could assume that a large part of them became pensioners, but the number of people, retired from work, did not increase. In 2010, there were 2.468 million pensioners in the country, while in 2020 - 2.485 million. Moreover, the number of pensioners in Belarus has decreased to a historical minimum in August 2021 - 2.425 million people. The decline in the number of pensioners has been underway for five years already.
If we analyse the statistics for 2020 and 2021 (see infographics), a more compelling picture emerges. Last year, the number of people who quit their jobs exceeded the number of those hired by 48,474. During these eight months (according to Belstat) 61,943 people lost their jobs and did not find a new one. From January to August 2021, the number of those, who were fired "on a net basis" went up by 42%!
Another thing to note: there is no "pendulum" - when more people are hired one month and less the next. The last time it happened was last October-November.
However, the website of the Ministry of Labour and Social Security presents a slightly different picture: "The number of unemployed registered in the bodies on labour, employment and social protection as of July 1, 2021, amounted to 7.9 thousand people, which is 20.7% less than as of July 1, 2020. The registered unemployment rate as of July 1, 2021, was 0.2% of the labour force".
It is worth noting that none of the regions of Belarus hired more people than fired. Besides, all regions have a negative trend: the negative difference (on a cumulative basis) became higher in 2021 compared to the same period last year in all regions of the country. The worst situation is in Minsk. According to the available statistics, 15 745 more people were fired than hired (in January - July 2020 - 12 026 more) within seven months of this year.
All professions matter. But not all are wanted?
According to the Belstat data, the most negative trend is registered in education: within January-August of 2021, 19.2 thousand people were fired more than employed (within 8 months of the last year - 20.9 thousand), as well as in health care and social services (by 6.6 thousand and 5.4 thousand respectively). During the reporting periods, they accounted for almost half of all dismissals and layoffs.
In addition, a negative trend in the labour market this year appears in construction: 7,000 more people were fired than hired (against the positive trend of the same period last year 1,100 more people were hired than fired) in January-August 2021.
And who is needed in the labour market? According to statistics from the Committee on Labour, Employment and Social Protection of the Minsk City Executive Committee, as of September 1, 2021, more than 22.7 thousand jobs were advertised in the metropolitan employment service. The top ten include cook (647 vacancies), seller (536), cashier (459), plasterer (439), painter (431), bricklayer (375), car driver (369), construction metal worker (318), electrician for repair and maintenance of electrical equipment (318), a worker on complex maintenance and repair of buildings and structures (315). The top ten vacancies for white-collars is as follows: nurse (812), doctor (716), engineer (665), nursery teacher (222), teacher (159), manager (129), paramedic (119), software engineer (102), economist (90) and accountant (82).
According to the Ministry of Labour and Social Security, as of July 1, 2021, the agencies of labour, employment and social protection received information about 91.5 thousand job vacancies, which is 22.9% more than a year ago. The need for blue-collars amounted to 64.9% of the total number of vacancies.
What do the experts say?
According to Svetlana Korosteleva, the director of the Kvadrat recruitment agency, the outflow of the labour force abroad has become one of the most important factors impacting the situation in the labour market. The situation in the country is a "jobseeker's market", where conditions are dictated by candidates for vacant positions.
- I have been working in this market for 26 years and can say that such situations rarely occur, so now is the best time for job seekers to find a well-paid position. One thing to bear in mind is that whenever the situation stabilises, it ends up being reversed and an employer is the one who starts setting the conditions. It can last for years.
But employers still suffer from the inability to find competent specialists. Now it is possible to find high-paid work without much effort," she reassured job seekers with her assessment of the situation.
Igor Kochetov, Director of KIAT HR Company, thinks that the constant growth of dismissals and lay-offs relates to the restructuring of state enterprises.
- It should be noted that the number of vacancies is huge, both in Minsk and in the country as a whole. It is growing, but not evenly. If we take state enterprises, the overwhelming majority of them are vacancies related to physical companies. In particular, state enterprises and organizations are currently experiencing a shortage of drivers, construction workers. There is also a shortage of nurses and paramedics in the medical sector. The demand for workers in these professions has increased. If we talk about vacancies in other sectors, there is traditionally a shortage of people in the IT sector, sales specialists," he explained.