Lithuanian Foreign Minister Proposed to Introduce Global Air Sanctions against the Belarusian Authorities
7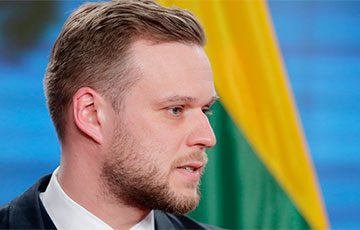 Landsbergis insists on the formula: companies that fly to Minsk cannot fly to the EU.
On October 19, it became known that the Minister of Foreign Affairs of Lithuania Gabrielius Landsbergis proposed to his colleagues from the European Union to introduce new large-scale air sanctions against the authorities of Belarus.
"The crisis on the border of Lithuania, Latvia, and Poland has not gone anywhere. To be honest, we see signals that the situation is worsening. Climatic conditions are also deteriorating. I raised the issue of returning the issue of illegal migration to the European Commission as a priority," Landsbergis said, Delfi.lt reports.
According to him, they managed to convince Iraqi Airlines not to fly to Minsk, and the same was done with the Jordanian ones. However, new flights appear every week. "We are monitoring ticket sales, we see that sales are going on," he said.
"It is difficult to run after each airline, it takes a lot of time," said the head of the Lithuanian Foreign Ministry.
"Therefore, my proposal is: airlines that fly to Minsk cannot fly to the EU. Such a broad sanction," he said. And he explained that most of the airlines fly to Minsk from different cities in the Middle East, but the planes of these airlines also fly to the EU.
"We are told that this is commerce, tourism. We are building a wall on the border with Belarus for 150 million euros and subsidizing the business of these airlines, which earn money from delivering migrants to Minsk, we spend taxpayers' money to stop migrants," Landsbergis said.
At the same time, it is not yet clear what Landsbergis means - to prohibit flying to the EU for absolutely any airlines, including Russian ones, that arrive in Minsk or still track those that carry migrants from the Middle East.
Let us remind you that German Foreign Minister Heiko Maas said at a meeting of the EU Council at the level of foreign ministers in Luxembourg on October 18 that Aliaksandr Lukashenka uses illegal migrants to put pressure on the European Union. And he added that the EU countries "are not ready to look further at the fact that airlines make money from transporting refugees to Germany or other European countries." And the Minister of Foreign Affairs of Latvia Edgars Rinkēvičs said that the EU needs to strengthen restrictions on the Belavia airline.