White-Red-White Flag, Hung Up By Riga Mayor During World Hockey Championships Put On Auction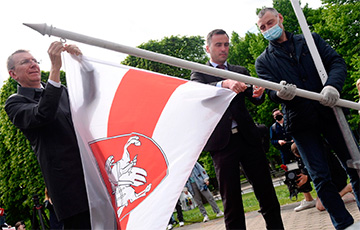 All the money will go to support free athletes.
A unique historical artifact, which is significant not only for the Belarusian people, but also for the entire world community, is put on a charity auction. This symbol of solidarity with the new Belarus will long be remembered even in the most remote corners of the world, says the Sports Solidarity Foundation / BSSF.
We are talking about the white-red-white flag, which mayor of Riga Mārtiņš Staķis demonstratively raised and put in line with the flags of all countries participating in the World Hockey Championship instead of the red-green flag, embodying the bloody Lukashenka regime. Thanks to mass recognition, the flag has become a national symbol of the Belarusian people's desire for freedom.
The mayor of Riga has presented this flag with a commemorative signature to the Belarusian Sports Solidarity Foundation for an auction to help people who have been subjected to repression and need financial support.
The starting price of the lot - $3000. The auction will last 10 days.
All the funds will be transferred to the Belarusian Foundation for Sports Solidarity.
BSSF renders financial, psychological, organizational and any other assistance to Belarusian sportsmen who suffered from the actions of the regime, cooperates with international organizations and federations of different kinds of sports in order to protect their rights.