Dzmitry Bandarenka: General Strike, Taking To Streets Every Day At 7 P.M. Should Start Since Tomorrow
30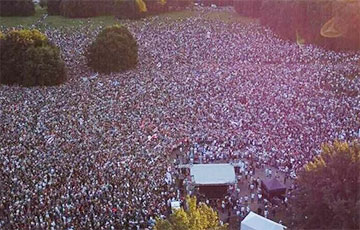 We have already won, it remains only to formalize the transfer of power.
Coordinator of the European Belarus civil campaign Dzmitry Bandarenka has stated this in an interview with the Charter97.org news website.
- The situation is developing in favor of the insurgent Belarusian people. Sasha the Cockroach thinks that by forcing Yarmoshyna to declare an early vote turnout of 42 percent he is demonstrating his strength, but in reality he only convinced everyone that his mental illness has gone very far.
On August 9, hundreds of thousands Belarusians will not leave the streets of cities and towns for a very long time. It is clear that the authorities are not ready today to admit their complete defeat, but they have no resources at all, and the external centers of power, the West and Russia, have already found a consensus on Lukashenka's resignation.
Plan B, which was announced on many leading telegram channels in Belarus, is quite real. From tomorrow, the All-Belarusian Strike should start, and every evening at 7 p.m. people across the country will take to the central streets and squares of their cities.
After the proclamation of his 7th term, Lukashenka will immediately receive the strongest economic sanctions from both the East and the West. Moreover, they will not even be announced, but will be introduced in fact. Already today there is no currency left in the country. A small part of the 'dumbhead' police, and a battalion of internal troops, which still remain loyal to the agro fuehrer, will not be able to fight millions of Belarusians. Moreover, the coronavirus has added up to the mental illness of the Drazdy leader, which he so denied. That's really Psycho3%.
As Lukashenka himself admitted, now he is injected with stimulants, so we know for sure that his heart and brain will not withstand the protests for another week.
Let us be united, courageous and consistent. We have already won, it remains only to formalize the transfer of power to the legally elected woman, the representative of the people.