Siarhei Tsikhanouski About $900,000: Vakulchyk Planted It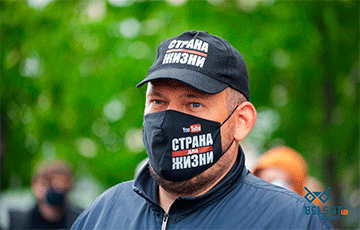 The people's blogger greeted his comrades-in-arms with the words "Stop the cockroach!"
People's blogger Siarhei Tsikhanouski was sentenced to another 15 days of arrest at the online trial in Hrodna for alleged disobedience to the police at the picket on May 29, the human rights activists report. Siarhei Tsikhanouski doesn't plead guilty.
"There was a huge queue of people who were tired of lies and came to put their signatures. There were a lot of them not only in Hrodna, but also in other cities," - Radio Svaboda quotes the people's blogger.
He then said that the unknown people had organized a provocation "by the order, I think, of dictator Lukashenka." According to Tsikhanouski, the authorities were afraid that thousands of people would want to put their signatures for Tsikhanouskaya.
"He says he has an 80% rating, but in fact his rating is 3%," - these blogger's words caused laughter in the courtroom.
During the break before the verdict was announced, Tsikhanouski managed to talk to those present in the courtroom. The blogger welcomed his comrades-in-arms with the words "Stop the cockroach!" Those present in the courtroom responded with the same popular slogan.
Siarhei Tsikhanouski also managed to comment on the $900,000 allegedly found in his apartment. On video from the courtroom, he said that the money they found in his house was not his: it had been planted by Vakulchyk.
"Well, it was planted by [KGB head Valer] Vakulchyk by order of Lukashenka. It was still known in Hrodna, he said in Hrodna that "they have some money there." That's what Lukashenka himself said, and then they planted it. Just look at the chronology," - Tsikhanouski said.