Cultural Protest: Creative People Of Belarus Recorded Video Message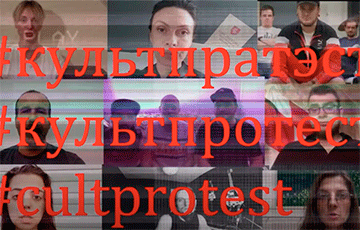 Emotional speeches by free people.
Representatives of creative professions: actors, musicians, directors, writers, journalists recorded a video message demanding the release of Belarusian political prisoners. Among those who are not afraid to appeal to the authorities, are Sviatlana Anikei, Pavel Yaskevich, Anastasia Shpakouskaya, Viktar Boika, Volha Skvartsova, Dzmitry Malashchytski, Hanna Harlanchuk-Yuzhakova, Leanid Paulionak, musicians of Intelligency and Weesp, euroradio.fm reports.
"I am a Belarusian and live in Belarus. I'm fed up with him. I demand fair elections," - actor Dzmitry Malashchytski begins.
"Our country is in trouble, our candidates are in jail," - actress and singer Anastasia Shpakouskaya says.
"I'm 36 years old, but I haven't seen fair elections yet, - actor, casting director and filmmaker Viktar Boika continues.
"We get furious when we see outright lawlessness," - the musicians of Intelligency say.
"There' s a lot of lawlessness going on in our country. Law enforcement agencies, which are obliged to protect my rights and civil position, somehow take responsibility to use violence only for walking along the avenue or attending pickets", - choreographer Volha Skvartsova adds.
"We demand to give the people of Belarus an opportunity to make their choice," - the creative people say.