Stop Feeding Regime
Pavel Seviarynets
1.06.2020, 18:50

1,102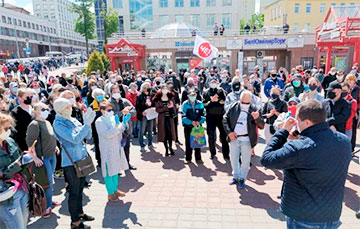 The politician called for a nationwide economic boycott.
Co-chairman of the Belarusian Christian Democracy Pavel Seviarynets called on the residents of Vitsebsk, who came to support Sviatlana Tsikhanouskaya, to a popular strike, Belsat reports.
At a picket to collect signatures for nominating presidential candidates in Vitsebsk, Pavel Seviarynets, the Co-Chairman of the Belarusian Christian Democracy Party steering committee, urged Belarusians to rally against the current government, as well as support illegally detained activists, including blogger Siarhei Tsikhanouski:
The BCD Co-Chairman urged the people not to be afraid, and prepare for mass rallies, as well as a long-lasting economic boycott:
Віцебск натхніў. Палова выступоўцаў казала па-беларуску, гукалі "Жыве Беларусь!", "Свабоду Ціханоўскаму!", ""Стоп таракан!" і "Верым, можам, пераможам!"
Бел-чырвона-белыя сцягі. Сонечна.
Агулам - больш за 1000 чалавек.
Дамовіліся, што праз тыдзень нас будзе больш! pic.twitter.com/MuYOBRSZCY

— Павел Севярынец (@sieviaryniec) May 31, 2020
"We can stop keeping our money in Belarusbank, we can take our deposits from there! We can stop buying fuel from Belneftekhim! We can stop shopping at Euroopt and Korona - these are Lukashenka's wallets. We can buy nothing at Tabakerka kiosks. Economic boycott to the regime! Stop feeding the regime! "
People answered with exclamations "Stop the cockroach!" and "Long live Belarus!".
"If someone can just come and put a signature - do it. But this is not enough. If someone can speak out on social networks - do it. But this is not enough. If there is a need to come out in a joint general protest, all together, all over Belarus - come out! That might be enough! If not, then a strike and an economic boycott! " called Pavel Seviarynets.