Stanislava Hlinnik: We Want To Achieve Sanctions Against Lukashenka Regime In Poland
7
15.12.2020, 15:32

169,550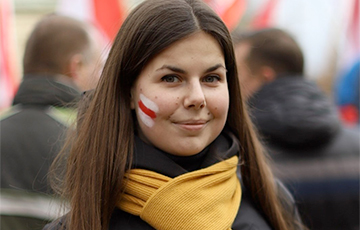 How Stanislau Shushkevich's granddaughter helps Belarusian refugees in Warsaw.
Stanislava Hlinnik is the granddaughter of the first leader of independent Belarus Stanislau Shushkevich. In 2013, she went to study in Poland, and in 2020 she became one of the founders of the Belarusian Youth Hub, which is part of the main structure of the Center for Belarusian Solidarity.
Stanislava told the website Charter97.org about the events in Belarus, and what is being done to help Belarusians in Warsaw.
- Stanislava, how did you, the granddaughter of the first leader of independent Belarus, end up in Poland?
- In 2013, I came here under the Kastus Kalinouski Program. Before that, I studied at the Belarusian State University with a degree in Biotechnology, but I quit. During this year, I was detained at work, as we rented premises to independent observers at the "parliamentary elections". Since I am from a politically committed family, there have always been problems and interest in me throughout my life. As a result, I realized that it was better for me to get an education abroad, and applied for the Kalinouski program,and this is how I came here.
Here I continued my education at the University of Warsaw, but since I realized that I didn't have a humanitarian mindset, I changed university and now I am finishing SGGW (Szkoła Główna Gospodarstwa Wiejskiego - Main School of Agriculture) with a degree in Gastronomy and Hotel Business.
- And how did Stanislau Shushkevich react to the fact that you were forced to leave Belarus?
- In principle, he had nothing against it. Conversations about the possibility of getting an education abroad have been going on, probably, throughout my life. It was clear that my family would not be able to pay for my education. We talked about whether I could apply for free, whether I could prove that I could study abroad and get a diploma, then there would be no obstacles on the part of the family. The only thing we immediately decided was that I shouldn't stay abroad after my studies. Getting an education abroad is one thing, but staying somewhere permanently is another.
- That is, do you plan to return to Belarus after receiving your diploma?
- Of course. And recently I have been trying to speed up this moment.
- How are you trying to speed it up? Through your social activities?
- Yes, I already have some experience of social activity, I see what I can do after returning to Belarus. My family also has interesting projects. Father organizes a Belarusian cultural center on the border with Lithuania. There are many interesting things to do in Belarus.
In Warsaw, I took up activism only this year. Before that, I was always friends with some organizations, periodically took part in something, conducted rather cultural events, organized literary evenings, organized concerts of the Belarusian and Ukrainian music. I got into active political activity on June 18 this year, absolutely by chance, because that was the period when mass arrests began in Belarus. As far as I remember, both Siarhei Tsikhanouski and Viktar Babaryka had already been arrested at that time. Chains of solidarity began to form in Minsk.
- It was on June 18 that Viktar Babaryka was arrested.
- And an answer was needed from Warsaw, an action was needed. Everyone wanted to come out and show their solidarity. Unfortunately, none of the organizations existing at that time organized a protest that could be attended by everyone. I saw in the comments in groups of Belarusians on social networks that people are beginning to gather themselves, but I realized that no one had reached an agreement with the Polish police. Because according to Polish law, you do not need to ask for permission, but you must notify that there will be an action. I registered the action for myself, created a meeting and called everyone.
This is how the first rally took place near the Belarusian Embassy on June 21, which was attended by over one and a half thousand people. And after that, a lot of people wrote to me, a lot of people came up to the action, some ideas began to appear, a group of active guys appeared around me, and we continued to hold actions throughout the summer, right up to the founding of the Center of Belarusian Solidarity.
- Did you become one of the founders of the Belarusian Youth Hub in Warsaw?
- Yes, together with Aliaksandr Lapko and Andrei Rakevich we have created the Belarusian Youth Hub. And the Belarusian Youth Hub became a co-founder of the Center for Belarusian Solidarity. We are now working from the office at Oleandrów 6, advising Belarusians who come here, not only repressed refugees, but in general all people who have recently left Belarus for various reasons.
Many leave because of a sense of insecurity, and there is no need to be arrested. We help everyone whenever possible. I personally advise families with children on, for example, how to send a child to school, how to legalize their residence here. Our specialist Anna Kaniewska helps students, helps them fill out documents for the Kalinouski program or choose another suitable program, advises on admission, on language courses.
Aliaksandr Lapko, the head of our Hub and a representative of By_help (an organization that helps with the payment of fines and compensation to victims of violence by the security forces), is now involved in activities. We run online and offline events, including educational and integration webinars on how to start life in Poland. We talk about education, work, legalization and useful life hacks. As for conducting offline events, of course we have serious limitations during the pandemic. But in small groups we organize excursions and memorial evenings, as well as master classes, for example, on weaving Christmas wreaths. Recently there was a party in honor of the 90th birthday of Uladzimir Karatkevich: we read his works, made video materials, which we subsequently distribute in Belarus.
We try to do as much as possible, concentrating on supporting Belarusians. We try to record videos, do media projects, and develop infographics.
- Well, how do you assess the overall emigration of Belarusians to Poland? Is there serious growth now?
- The growth is serious, but I compare it with the emigration of Ukrainians, because I found this wave. After the start of the Maidan, 2 million Ukrainians arrived in Poland. If you count in proportion, it is as if 500 thousand Belarusians arrived. That is, in comparison, it turns out that not so many people left.
Still, comparing with Ukraine, I understand that we have a classic story that we are "the locals" and Belarusians leave their lands only when there is no other choice.
- And in what mood, in what condition do people come?
- In different ways. I like that most of the people who come don't have a desire to assimilate in Poland, to be Poles and forget that they are Belarusians. Most often, people continue to be volunteers of Belarusian active groups here to the best of their ability, looking for work in Belarusian organizations. Those who were actively involved in the social movement continue to be in the social movement, only now from here.
Of course, an important point is that many, unfortunately, do not know Polish. This often affects the possibilities of finding a job, but, nevertheless, everyone can find something for themselves. We always welcome volunteers, and people continue to help.
- That is, the majority are ready to work on their early return home?
- Yes.
- Was there such a trend in previous years?
- I don't think so. On the other hand, many of my friends, who have had refugee status since 2010, wanted to continue helping Belarus get rid of the regime. Still, there are many editorial offices of Belarusian media, many organizations are located here. People who work here are often unable to return home for political reasons. But it seems to me that until this year, very few Belarusian organizations could satisfy the Belarusians' request for activism. That is, people, perhaps, wanted to continue to deal with the Belarusian issue, but could not, because there were no organizations that could direct them.
- What is the Youth Hub doing now? What specific assistance program are you running?
- We are currently implementing a project together with the HumanDoc Foundation, within which we provide advice on work, advice to students, advice on legalization, advice to families. And besides that, we conduct educational, cultural and integration events.
As part of the work of the Center of Belarusian Solidarity, we provide material assistance whenever possible. But most often these are not cash payments. We help you find housing for starters. If a person is in need, we can pay the person for a month. Since you can work in Poland on humanitarian visas from December 1, we try to support a person only for starters, until they find and get a job.
Of course, we would like to help everyone, but we do not have enough resources for this, so we help only at first, and only those who really cannot live here without our help. We also issue free sim cards, transfer codes for the Biedronka supermarket, mainly to refugee camps and shelters. Shelters are already operating in Warsaw, Krakow and Bialystok.
- What is a shelter?
- This is an apartment designed for people to live there temporarily. Not in a refugee camp, but in a place like this. And in the first month they can live there for free, in the second it is half the cost, and if they want to stay there longer, they must already pay the full cost.
In order to get help at the Center of Belarusian Solidarity, you need to contact the Central Bank's information line at +48722722500 or @cbshelp on Telegram. The hotline operator will tell you how we can help. This can be financial assistance, advice, legal assistance and much more. Based on your questions, the hotline will direct you to the right people who can help you. If there are any issues that the Center does not directly solve, we have a huge group of volunteers who can personally help: register a bank account, go to some executive committee, bring you food if you are on quarantine. In general, you can write and find out on any question. More often than not, we can help.
- Is it hard for Belarusians to get a job in Poland?
- From December 1, by an official decision of the Polish government, Belarusians who enter on humanitarian visas or under the Poland Business Harbor program are allowed to work officially. That is, you no longer need a work permit in Poland. Previously, it was necessary to write to the governor of the province, to find out if there were any Poles applying for a particular job. Most often this is just a formal procedure, but it takes two to three weeks. Now you do not need to go through it, you can directly get a job.
But there is another point - knowledge of the Polish language. To work in Poland, you need to know Polish most often. If this is work for Polish companies, and not for international ones, where it is about English. Without the Polish language, it can only be physical labor. There are many such options. There is a great need for people in factories, warehouses, factories, drivers, delivery workers. That is, it is easy to find physical work. If, nevertheless, a person wants to work in a more highly qualified position, then they need to know Polish.
Fortunately, it is easy for Belarusians to learn Polish, because it is a close language group. And now not only we, but also other organizations offer accelerated Polish language courses. We do not have a new recruitment right now, we have just started the course, but are looking for additional teachers. I think that from January we will launch another Polish language course. We will have groups both online and offline.
- They say that Poles have a very friendly attitude towards Belarusians.
- The Poles are very eager to find jobs for Belarusians. It is believed, and I agree with this, that Belarusians are executive, hardworking, do not steal, do not cheat. That is why the Poles have good experience of working with Belarusians, they are very willing to hire, this is true.
- In addition to humanitarian activities, you also have to deal with politics. Are you actively advocating the introduction of economic sanctions against the Lukashenka regime today?
- Yes. We support all the demands of the protesters in Belarus. We believe that Lukashenka must leave.
The main goal of our activity is actually to stop this work. The Center of Belarusian Solidarity is a temporary association created for emergency assistance to Belarusians. And we hope that soon Belarusians will not need to flee anywhere. Perhaps, help will be needed to return home. On this we will end our activity.
If there remain Belarusians who want to live further in Poland, they will be able to become participants in cultural and integration processes, forging friendly ties between Poland and Belarus. But I hope that we will not have to help refugees anymore, simply because there will no longer be any.
- Let's hope. What exactly are you doing to impose sanctions? Are you interacting with the Polish authorities, human rights organizations?
- At the moment, a group of volunteers from the Belarusian Youth Hub are preparing letters and appeals to the Polish government and to specific organizations that cooperate with the Belarusian business. We want to achieve sanctions against the Lukashenka regime in Poland.
For example, in the Carrefour store you can still buy Santa Bremor products. There are also construction suppliers. We have a list of all these suppliers. We will first send letters directly to these organizations, we will see their reaction. Perhaps they just haven't realized that it's not good that they support the regime. We will try to contact them directly. If this does not work, we will continue to achieve this with actions, and send letters to government agencies.
- How does Stanislau Shushkevich assess your work?
- We practically do not discuss this with him. Sometimes my mother says that, for example, grandfather was shown some video in which I am telling something, or my webinars. And they tell me that he is proud of me. This is, of course, nice.