Sviatlana Tsikhanouskaya Called to Support the Striking Factories and Enterprises
5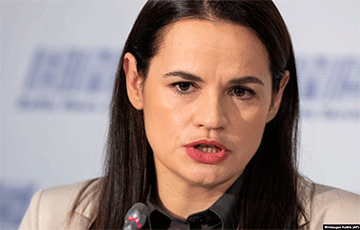 The strike continues.
Former presidential candidate Sviatlana Tsikhanouskaya believes that Lukashenka's regime is afraid of strikes and calls for support of the workers' protest. This is stated in a statement by her press service.
"The strike continues. We know that right now, employees of factories and enterprises are refusing to hand over and accept shifts, resist the security forces and repressive orders of the leadership, and are submitting new applications for joining the strike. The workers of Hrodna Azot, MAZ, MZKT, METZ, and other plants are under enormous pressure - and they need our colossal support. Shoot videos and take photos in support, workshops or teams, and send them to bots or factory chats. Publish on your social networks, go to promotions, tell others about it.
If we help the factories go on strike, they will help us finish what we started. The regime fears this force and reacts to it. On one of the calls with the strike committees' leaders, they told me an important thought: "Solidarity is our best insurance against defeat." The entire history of Belarus since the summer of 2020 shows that this is true. Support MAZ, Grodno Azot, METZ, MZKT, and all factories and enterprises, which are now fighting for our new Belarus. Support students and professors who are on strike for the second day along with factories. Support everyone who has announced a strike for our future. Remember: every active peaceful step brings us closer to the moment when the violence will end, political prisoners will be released, and we will finally hold new and fair elections," Sviatlana Tsikhanouskaya said.