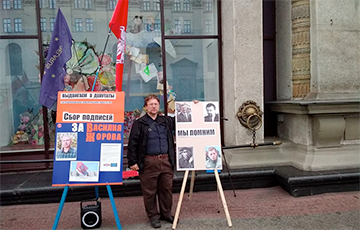 In the center of Minsk, people remember the kidnapped and killed opposition leaders and journalists.
European Belarus activist Maksim Viniarski in his speech reminded about Viktar Hanchar and Anatol Krasouski, who disappeared exactly 20 years ago, as well as about other people, whose death is blamed on the dictator and his entourage: Yury Zakharanka, Dmitry Zavadski, Aleh Biabenin, Hennadz Karpenka, the Basta telegram-channel reports.
"We remember. 20 years ago, Viktar Hanchar and his friend Anatol Krasouski were kidnapped and killed by a death squadron. Lukashenka will definitely answer for this crime," - Maksim Viniarski writes on his Facebook page.
The rally was attended by activists of different political forces - "European Belarus," BCD, "Narodnaya Hramada," UCP.