Artist Ales Pushkin Released In Krupki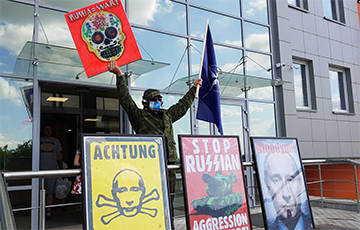 The trial has been postponed until Monday.
On Friday, artist Ales Pushkin was released in Krupki. The trial was postponed until Monday, Radio Svaboda informs.
Pushkin was detained during a performance in defense of the Belarusian language on June 6. On the 220th anniversary of the birth of the Russian poet Alexander Pushkin, he held a performance with several posters ("Belarus in NATO," "Russia - war!", "Stop Russian Aggression In Europe") near the local Euroopt store.
Half an hour later the policemen arrived and confiscated the posters, the NATO flag and detained the artist - dragged him by force into the car. Ales Pushkin spent exactly 24 hours at the station.
The artist has chosen the place of the protest not by chance - recently he had a conflict with the employees of this very shop on the linguistic grounds.
The Belarusian PEN-center has issued a statement demanding to stop persecution of Ales Pushkin.