Independent Journalist From Vitsebsk: They Fined Us For Talking To People
3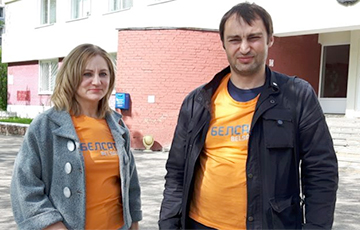 Two Vitsebsk journalists were fined for $ 609.
The trial of independent journalists Alena Shabunia and Viachaslau Lazarau took place in the Navapolatsk municipal court. Judge Zinaida Balabolava found both journalists guilty of "illegal production" and "distribution of media products" on the basis of Article 22.9 of the Code of Administrative Offenses, reports Radio Racyja.
The reason for the trial was a video piece shown in the program on Belsat TV channel. They told about the accident at the Polimir Navapolatsk enterprise and about the act of the employee Andrei Shvilpo, who saved his colleagues, but was later convicted of causing production harm. He was present at the trial as a witness, and believes that the journalists were punished unfairly:
- They arrived and just asked me what was the situation at the time of the accident and why I disagree with the verdict. That's it! So they are accused of some kind of offenses, they are obliged to pay money. For what? For helping me? For reporting truthful information? This is absolutely incomprehensible.
The journalists' colleagues who were present at the trial and were fined themselves, do not agree with the court's decision either. It's not them who should be punished, Alena Shabunia says:
- Of course, these are crazy fines, and, I think, just for nothing! Yes, we talked with the people and they told us about the problems that exist in our country. How can I be fined for that? It is necessary to fine those who created these problems and do not wish to improve the life of Belarusians. That's who should be fined!
Viktar Stukau, Head of the Polatsk-Navapolatsk BAJ branch:
- What these journalists did was the usual work of journalists. Moreover: according to our Constitution, any person can create such materials, since everyone has a camera in a pocket, and can send them to social networks or to some mass media, Belarusian or foreign. How is it possible to prohibit this?
The fined journalists and their colleagues noticed many irregularities in the work of the police officers who prepared the materials of administrative cases and in the actions of the judge during the trial. Alena Shabunia and Viachaslau Lazarau are going to appeal the decision on punishment in the form of a fine, in the Vitsebsk regional court.