Staubtsy Attacker Studied Well And Had No Problems At School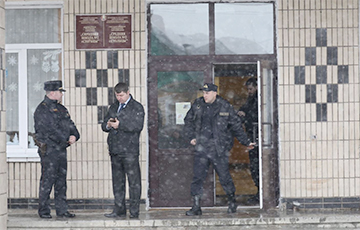 The schoolboy did not show any aggression.
Secondary school №2 in Staubtsy, where the attack took place, is cordoned off, children leave the school building and join their parents by several people, their phones are turned off, the Radio Svaboda correspondent reports from the spot.
Parents are waiting for the schoolchildren at the school entrance. They told that they had learned about the incident from the call of their children. They began to call and tell them about the tragedy. After that, the students' phones were turned off. Now children are released in groups of several people every 10-15 minutes.
"He got along well with everyone"
Students' parents and local residents said that the teenager who had attacked the teacher and the students studied well and had no problems at school. He never showed any aggression, he was in good relations with classmates. He is from an ordinary family, he studied very good at junior school.
"The pupils respected the teacher"
The murdered 50-year-old history teacher had a good relationship with her students. Her former student Mikalai told journalists about her.
According to him, the teacher taught history and the subject "Human. Societies. State". She was not strict and her children respected her fair treatment. Students never complained about her.
"She never raised her voice! She was the best teacher ever. We met a week ago (on Graduate Day – ed.). She looked as young as always," – Mikalai said.
"Tears are coming to my eyes... She was one of the few teachers whom I remember as a kind person full of compassion," – other former student said.
"The best teacher ever. She was always right. We met a week ago, at the 15th anniversary of our graduation day. She looked young and joyful as always," – another former student of the deceased teacher said.
A schoolboy born in 2003 attacked a teacher and students with a knife in the secondary school № 2 in Staubtsy in the morning on February 11. The injured 53-year-old teacher died of wounds, one of the students also died. Two more injured students are in intensive care.
The Ministry of Internal Affairs's message says that the guy was detained by riot police. The Ministry of Health reported that two wounded children had a surgery. The head of the Investigative Committee Ivan Naskevich arrived in Staubtsy.