More Than One Hundred Opponents Of Battery Factory Came To Square In Brest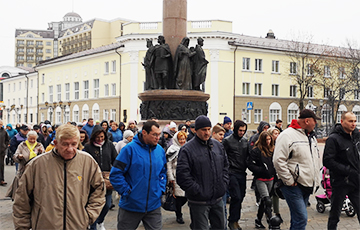 After the meeting, the people of Brest marched through the city.
Around noon on December 15, opponents of the battery factory construction gathered on Lenin Square in Brest again. Similar meetings have been held here every Sunday since February 25, 2018, naviny.by reports.
According to human rights activist Raman Kisliak, at 12:40 p.m. there were more than 100 people on the square. The police via a megaphone warned the participants about the responsibility for holding an unauthorized event.
Those who came to the square discussed the decision of the Supreme Court of December 12, which did not sustain the appeal of the founders of the Brest regional environmental public association EcoBrest. The Supreme Court upheld the decision of Brest regional court of September 25, which did not sustain the founders' appeal against the refusal to register the association. The EcoBrest founders asked the Supreme Court to overturn the regional court's decision and oblige the main justice department of Brest regional executive committee to register the public association.
As reported earlier, the foundation meeting of EcoBrest took place on May 26. 12 residents of Brest and Brest district became founders of the organization. The main goal is to involve the public in solving environmental problems, as well as to protect human rights and freedoms enshrined in the Constitution of Belarus and its international treaties. On June 26, documents for registering the organization were submitted to the Justice Department of Brest Regional Executive Committee. On July 26, the state registration was denied.
Those present at the square called the Supreme Court decision predictable. Dzmitry Andrasiuk believes that the authorities are afraid of uniting people in any format. Iryna Silitskaya, a resident of Brest district, added that the authorities are afraid of any organized activity of people, which is confirmed not only by the Supreme Court decision, but also by the decision of the local authorities in January this year. Then the authorities refused to register the initiative group for holding a local referendum against the battery factory construction.
The participants of the meeting also discussed the trials against two opponents of the battery factory held this week: Andrei Slizh and Aliaksandr Maracheuski were tried. They were tried for participating in the election picket of European Belarus candidate for the house of representatives Palina Sharenda-Panasiuk, which took place in Savetskaya Street in Brest on October 25. One of Sharenda-Panasiuk's campaign goals was the closing of the battery factory.
After the meeting at the square, which lasted until about 12.40 p.m., the opponents of the plant's construction walked along the central streets of Brest - Pushkinskaya and Savetskaya - to the Belarus cinema.