Garbage Truck With Radioactive Iodine Found In Minsk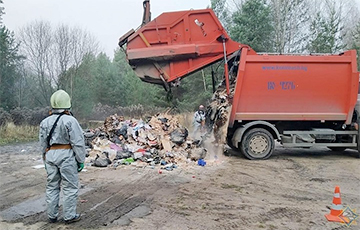 An emergency happened at the Trastsianetski range.
The emergency occurred at the Trastsianetski range in Minsk on Thursday, November 14. This was reported by the press service of the MES capital department.
The garbage truck arrived at the landfill, and the safety engineer saw that the car of the Ecology of the City company had excessive background radiation. A rescue team was called to the place.
- On the spot, MES employees took measurements to find out the equivalent dose rate on the surface of the MAZ garbage truck's container. In 10 centimeters, the background radiation was 0.4 microsieverts - it was decided to unload the garbage and find the source of radiation, - the press service explained.
As a result, the rescuers found several black packages, all of which contained used medications with iodine-131 (Note: an artificial radioactive isotope of iodine). The hazard class of the substance is №4, and the half-life period is eight days.
- There are no threats for ecology and people. We are disposing the "trove" according to the instructions, - the Ministry of Emergency Situations specified.