Video Message: Opponents Of Battery Plant Responded To Lukashenka
17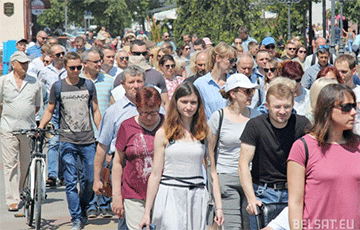 The Brest citizens reacted to the dictator's words.
During the meeting with students and professors of the Academy of Management Lukashenka spoke about the opponents of the harmful battery factory in Brest:
- I want the young people to rely only on themselves, to show themselves more actively. But I do not want them to create uproar as the ones in Brest, as I know, did, and I warned everyone when I was there at the 1000th anniversary that there were some of those battery activists, and everyone would soon understand why they were creating that uproar. They all ran as candidates for deputies, - Lukashenka said. - That is, they couldn't care less about the battery factory, they are ready to go to Minsk tomorrow and idle around this street and behave quietly or create uproar in Minsk squares already. They needed that to do so ... I think even some of these people have been registered there.
Opponents of the plant, who have been coming to the main square of Brest and protesting against the authorities' decision for a year already, got angry with Lukashenka's words. One of the leaders of the protest, Aliaksandr Kabanau, even recorded a video message on the Youtube channel "People's Reporter":
- So now it's clear where it's all coming from. Two years ago, absolutely unknown people met near a factory in Brest and said: "Look, the "elections " will be held in two years, let's go as candidates for deputies. And in order to go for a good reason, let's make some noise concerning the battery factory.
Or maybe people do care about this factory? The factory, which is being built next to their houses. But judging by the development of events, it' s Lukashenka and his officials who couldn't care less about the factory.
To behave quietly in Minsk? Are you judging by the work of these "deputies", whom you have appointed there? They are the ones who behave quietly. We have our own Lenin Square, our own pigeons. And we do not "create uproar" there, we express our opinion.