'The Strength Palina Has Helps To Hold On'
5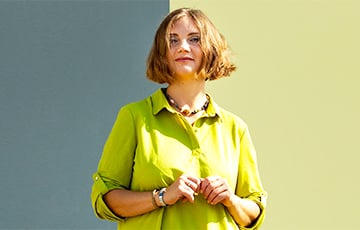 Today is 1,000 days since the arrest of the European Belarus activist.
Today is 1,000 days since the arrest of the European Belarus civil campaign activist Palina Sharenda-Panasiuk. The husband of the political prisoner, Andrei Sharenda, in an interview with the Charter97.org website, called on Belarusians to show solidarity with the heroine of the Belarusian resistance:
"Literally in a few days, Palina will stand a new trial under Article 411 of the Criminal Code — "malicious disobedience to the administration of the colony." Unfortunately, the outcome of this trial is a foregone conclusion. Palina will most likely receive another year of imprisonment, and will serve this term under the harshest conditions.
Of the thousand days that she was behind bars, Palina spent more than five hundred in a punishment cell and punitive confinement. This is a colossal blow to the human body and psyche. We only know that Palina is holding on, remains optimistic and wants to convey to Belarusians that they continue to fight for freedom.
Right now, at this difficult moment, Palina needs our support and solidarity more than ever. It would seem that in the current situation this is not a paramount thing, but solidarity is important.
Therefore, on the eve of the trial date, I want to appeal to all civil associations, human rights organizations, political parties and journalists so that they support Palina in these difficult days. This could be a post of solidarity, an appeal to demand the release of Palina, or any type of support. But it's even more important (here I'm addressing Western politicians) to understand that our heroes cannot be freed through some kind of negotiations. Only pressure and increased sanctions will help free Palina and other real leaders who are behind bars.
The repressions are intensifying today, because for eight months nothing has been known about the fate of Mikalai Statkevich, Siarhei Tsikhanouski, Viktar Babaryka, people are simply being tortured. And this is happening in the center of Europe in the 21st century. The only answer may be a complete economic embargo and a total ban on the transit of goods through Belarus.
— How is your family holding up without the mother?
— Now the children have started the school year. Our youngest son Stakh went to the first grade, and the eldest son Slavamir entered the first grade of high school (in Lithuania this is like our ninth grade). Of course, it's difficult for them, and this cannot but affect me. For example, you have to get up early, get ready for school, cook breakfast. Despite all the health problems that befall us, we are coping, we are waiting for our mother and are confident that we will be together soon. We also live in hope that we will all return to Belarus soon. It is this thought that helps us cope with all difficulties.
The strength that Palina has helps her to hold on. I know that I have no right to complain, because it is a hundred times more difficult for her than for me. Secondly, the support of people that is addressed to Palina helps me to hold on.
I would like to take this opportunity to say words of gratitude to those people who help our family. It is targeted help that is important for the families of political prisoners.