AFU To Liberate Bakhmut, Two Key Towns: Zelensky Intrigues With Detailed Offensive Plan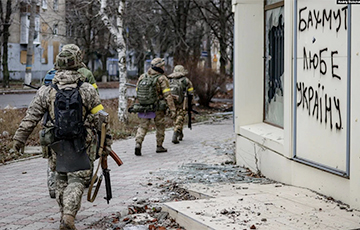 The Ukrainian army will not stop in winter.
Ukrainian President Volodymyr Zelensky has said that the Ukrainian Armed Forces will de-occupy Bakhmut and two other key towns. According to him, the Ukrainian command already has a corresponding detailed plan.
The Ukrainian head made this statement during a discussion with American journalists in Washington on September 21, CNN reports.
"We will de-occupy Bakhmut. I think we will de-occupy two more towns. I won't tell you which towns, sorry. So, we have a plan. A very, very detailed plan," Zelensky said.
He added that last year Ukrainian troops gained experience of fighting in wet and cold weather conditions in autumn and winter.
"In winter we cannot stop. My answer is that we will do everything not to stop in the difficult days of autumn with bad weather and winter," USA Today quoted him as saying.