Traffic Jams At The Border With Russia: Russians Flee From Mariupol
8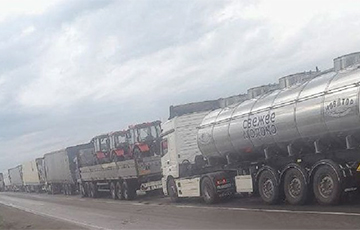 The occupiers flee after a series of powerful strikes on the occupied city.
There are many kilometres of traffic jams formed on the Russian-Ukrainian border near temporarily occupied Novoazovsk on Tuesday, May 30. The occupiers are taking out Ukrainian grain in trucks and, apparently, are leaving on their own.
RBC-Ukraine reports with reference to the Telegram post by the Advisor to the Mayor of Mariupol Petro Andryushchenko.
According to him, the Russians take out the stolen agricultural products in trucks. Judging by the video, a lot of cars from the occupied parts of Zaporizhzhia and Donetsk regions lined up to leave.
Andryushchenko believes that such a rush and "voyage" of the invaders is a "direct consequence" of the so-called "Azov bangs" that happened at the end of the week.
"There is no panic," a Mariupol City Hall official adds sarcastically.
What kind of "bangs" are we talking about?
Mariupol has been occupied since the beginning of the Russian invasion of Ukraine in February 2022. The Russian military is currently using the city as a base. However, explosions sound there constantly. They really can kill the personnel and destroy the military equipment of the Russians.
For example, more than 100 Russian soldiers were killed due to such a "bang" near the city on Sunday, May 28. Also on May 29, it became known that the attacks also targeted the warehouses and bases of the Russians in Yuryevka, Nikolsky and Urzuf.