Wagons With Fertilizers From Belarus Worth Millions Of Dollars Arrested In Ukraine
24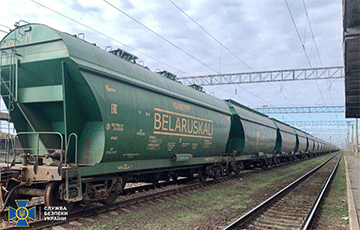 The cargo belonged, among other things, to Belaruskali.
In Ukraine, 170 wagons with mineral fertilizers produced in Russia and Belarus worth almost 100 million hryvnias (about $2,722,000) were arrested. They arrived at the port of Mykolaiv, which is part of the business structure of the Ukrainian oligarch Dmitry Firtash, even before February 24. This was reported by the Security Service of Ukraine.
"Foreign products were found in 170 wagons that were in Mykolaiv on the territory of the Sea Specialized Port, which is part of the business structure of the sanctioned oligarch Dmitry Firtash," the report says.
According to the investigation, the total amount of seized property is 11.8 thousand tons, almost UAH 100 million.
"Railway containers with mineral fertilizers arrived in Ukraine even before the start of a full-scale invasion and were in the "transit" mode. According to operational data, the cargo belonged to two foreign companies — Uralkali and Belaruskali," the SSU added.
In the future, as it turned out, the owners of the goods planned to ship them to third countries for sale and earn millions in income, some of which would go in the form of taxes to finance the war against Ukraine.
Currently, within the framework of criminal proceedings initiated under Article 212 of the Criminal Code of Ukraine (tax evasion), an investigation is ongoing to establish all the circumstances of the crime and bring the perpetrators to justice.