Marina Ovsyannikova, Former Editor Of Channel 1, Sentenced To 8.5 Years In Colony
40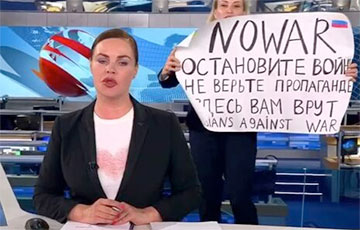 The sentence was handed down by Moscow's Basmanny court.
Moscow's Basmanny court has sentenced Marina Ovsyannikova, former editor of Channel 1's Vremya programme, to eight and a half years in prison in absentia, finding her guilty of "spreading false information" about the Russian Armed Forces (Part 2 Article 207.3 of the Russian Criminal Code), The Moscow Times reports.
"The court sentenced Ovsyannikova to eight years and six months in prison, to be served in a medium-security penal colony," the Moscow Prosecutor's Office said.
The court also deprived her of the right to administer websites and pages in social networks for four years. The prosecution asked nine and a half years in a penal colony for Ovsyannikova.
The case against the journalist was initiated after her picket on the Sofia embankment on 15 July. She held a placard that read: "Putin is a murderer, his soldiers are fascists. 352 children have died. How many more children have to die for you to stop?"
In August of that year, Ovsyannikova was placed under house arrest, but the journalist refused to comply with the preventive measure, saying she was innocent. In October, she fled to France.
Marina Ovsyannikova became famous after appearing live on Channel 1 with an anti-war poster in March 2022. At the time she was accused of "discrediting" the Russian army and detained. Before going on air with an anti-war poster, Ovsyannikova recorded a video message. She condemned Russia's war against Ukraine.