Religious Procession Scared Lukashists In Shchuchyn Region
10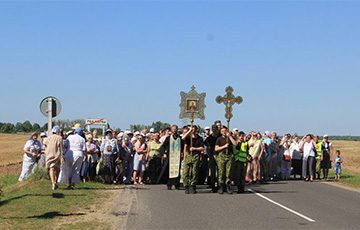 The organizer was fined.
The Beshenkovichy District Court (Vitebsk region, Belarus) fined the organiser and performer of a church procession for an allegedly uncoordinated religious procession. The trial took place on September 15, reports the Khrystsiyanskaia Vizia Telegram channel.
In the summer, a group of ten people marched along a rural road in the Shchuchyn district of the Hrodna region. The event was actually approved by the Hrodna Regional Executive Committee on June 28, 2023, but the participants may have violated the route. This was probably considered a violation and the organizer was accused of an uncoordinated event.
Later, on September 15, the Beshenkovichy District Court fined the organizer of the march. The trial took place there, since the organizer lives in Beshenkovichy and is an assistant to the dean for the construction of the Temple of the Prophet Elijah in this village.
As a result, the church employee was fined 740 (about EUR 276) Belarusian rubles.