'60-70% Of Companies Completely Or Partially Idle'
6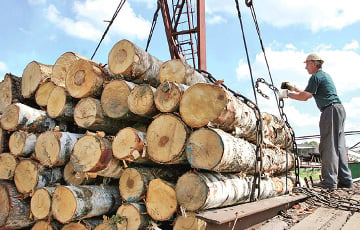 This is the situation in "woodworking", which has been under EU sanctions for several months.
The woodworking industry has been living under European sanctions for several months, and for the last month it has been under severe restrictions. Enterprises that made good money in the EU market were forced to look for new markets and change the final product so that it would not fall under the sanctions ban. The zerkalo.io journalists spoke with two businessmen about how things were going in their companies, and what they feel is the general situation in the industry.
On March 2, the European Union imposed sanctions on Belarusian timber. The sanctions affected woodworking under a special code 44. At the same time, the EU left the opportunity to execute previously concluded contracts until June 4.
"You can earn even in such conditions"
If in March the industry representatives were completely at a loss and assumed that in May they would have to curtail business, now their stories are much more optimistic. This is because in four months the most resourceful, as our interlocutors say, found an outlet to new sales markets, or started manufacturing products that did not fall under European restrictions.
The woodworking market is now actively changing and rebuilding. According to businessman Daniil (the name has been changed), it is already possible to earn money, although it requires much more work.
"For many around, there is a change in the market: those who sawed for Europe began to sell the products to Azerbaijan and other countries at a price two times lower. We have been preparing for this. Yes, there is a fall in the price of timber and finished products, but nothing terrible has happened globally. If a private trader (and even a forestry enterprise) owns all the necessary equipment, then he can earn even in such conditions, albeit less."
China took advantage of the "lucky" moment, he continues, and began to buy Belarusian products at the cheapest price. The Chinese bar has fallen in price by about half, the businessman says. Belarusians are ready to sell for that money, but they face difficulties in delivering cargo there due to a shortage of wagons.
Belarusian products are in demand in Azerbaijan, Turkey, something can be sent to distant countries through the port of Novorossiysk, Daniil continues. But he practically did not hear about the resale of Belarusian timber to the EU countries through other jurisdictions.
"Everyone wants to figure out how to do it, but so far it doesn't really work out. True, there is such a fairy tale, although I cannot say for sure that it's true, that theoretically it is possible to transport our products to the European Union through Georgia and Turkey, where it becomes Turkish and travels to the EU countries."
Despite the sanctions, with some effort, private business can adapt to changing circumstances and continue to earn money, the entrepreneur is sure.
"The government says that the sanctions have the opposite effect. This is partly true, but not for everyone, only for that small percentage who had the fuse, strength and ability to twist the situation for themselves. For those who managed to re-profil their activities to some extent, a golden time is coming."
He acknowledges that some are struggling financially and would benefit from cheap loans. The bank, where the businessman's company is serviced, offered him such a loan as part of the Development Bank's program for export-oriented enterprises.
"If everything goes well, I will take this money," the businessman admits and moves on to the topic of profitable affordable debts. "I have equipment that I took on credit at a refinancing rate of minus 5 percentage points (today it is 7% per annum — edit.) When everything was good, it turned out 2% per annum, and under the current conditions [albeit more expensive] it's just like a savings bank."
But the businessman is in no hurry to use the opportunity to accept cash payments from foreign counterparties and then deposit them into a bank account.
"How do they imagine it? I, the director of the enterprise, will bring some conditional 50 thousand euros to the bank. The next day, the Department of Financial Investigations will come to me! I understand the situation itself and the reasons why it was allowed, but who in our country would dare to bring to the bank even if not 50 thousand, but at least five thousand?"
"We take advantage of the moment and pick up everything small"
Siarhei (this is not his real name) is a businessman who cuts wood. He says that while "60-70% of companies are either completely or partially idle," he, having learnt the lesson of the past crises, reviewed old contracts and decided to invite them to cooperate again.
"We are used to both pandemics and wars. The first week [after the start of the war in Ukraine] we were stressed, then we regrouped, found old contracts and went conditionally to Voronezh with bags of Belarusian sausage and candy products. They agreed and began to diversify sales," says the entrepreneur. "Previously, it was not very profitable for us, because the price in Russia was lower than what we shipped to Europe. But now everything has changed, because there are practically no markets other than Russian, Azerbaijani, Turkish. Chinese — no, because there is no logistics."
At the same time, Siarhei admits, the company now processes more wood so that the level of income does not fall. Compared to the spring months, according to him, the situation with payments has improved — most often they pass quite quickly.
Among the difficulties, the businessman calls the slowness of the decisions of the public sector, on which wood prices depend, because of this, raw materials sometimes turn out to be more expensive than finished products.
"Now there are temporary difficulties with logistics, for example, no one wants to go to Uzbekistan, because the air temperature is high there. But after the pandemic and how we delivered to Europe last year, these are trifles," he continues to list the difficulties that the company is coping with.
The third problem is the original components for production.
"We have a fairly scarce sensor out of order. Those who previously brought to Belarus say that the delivery time is 18 weeks and it costs 300 euros. And in Turkey, for example, it can be found for $100. The question is how to bring it here. This is my small enterprise, but imagine what it is like for state-owned enterprises that work on European equipment."
Siarhei admits that due to the fact that timber as a raw material is always in demand, businessmen can find ways to sell it.
"While the forestries are having a hard time, they are looking for big contracts, multimillion-dollar investments that no one will make now, we take advantage of the moment and pick up everything small. [Contractors] come to us faster, we react to the situation faster. If the price falls sharply, we still agree to it. And they need to call the authorities, coordinate, someone in the forestry enterprises takes responsibility, and someone does not. This means that now we are winning. Let's see how the situation will develop further. Again, it is easy for us, because we are used to changes. Over the past two years, we have seen such things in our business that what is happening now is peanuts," he argues.
At the same time, Siarhei says, some players in the market are facing difficulties. He knows about this from communication with competitors, and also sees from the situation with employees who are quite actively laid off.
"These are qualified specialists and good workers, but they have nowhere to go. We even joke that now you can choose handymen with higher education for the sawmill. For us as a business, this is great, but in terms of the social component, it's terrible."
The businessman says that some specialists cannot find a job due to "some white-red-white story": employers are called and asked to urgently fire such people or not hire them.
Siarhei also answers the question about finances with optimism. It turns out that the profit at the moment turned out to be even greater than last year, when lumber prices rose.
"Now the price of raw materials is falling, less working capital is needed, especially since we do not have such a highly profitable and liquid business. If we remained at the same level in processing, we would still earn money, but now there is an opportunity to do more," he says and moves on to the issue of affordable lending programs for exporters. "We try not to get involved in cases where there is state money and freebies, because it is always a catch. Moreover, we have enough of our own funds to continue working, and now we are not thinking about development at all."
At the same time, the businessman admits that he drew attention to the fact that local authorities are interested in how the enterprise is doing and whether any support is needed.