Largest Oil Field Explodes In Kazakhstan
23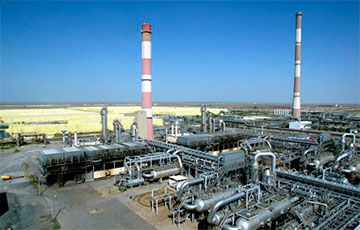 This happened after Tokayev's promise to increase supplies to Europe.
After the promise of President of Kazakhstan Kassym-Jomart Tokayev to increase oil supplies to Europe, troubles rained down on the country's oil industry, in particular, on July 6, an explosion occurred at the largest oil field, Tengiz. The Russian news agency Interfax writes about the explosion.
So, at about 9.55 am local time in the Zhylyoi region, a pipe explosion occurred at the Tengiz field, the reserves of which are estimated at 3.2 billion tons. As a result, two workers born in 1985 died, and three more people were injured.
An investigation has been launched into the incident under Part 3 of Article 156 of the Criminal Code of Kazakhstan (violation of labor protection rules), the police department of the Atyrau region reported.
Located in western Kazakhstan, the field is being developed by Tengizchevroil, which is 50% owned by American Chevron and another 25% by ExxonMobil. A $45.2 billion production expansion project has now been launched at Tengiz, which was scheduled to be completed in 2023.
Two weeks earlier, at the St. Petersburg International Economic Forum, Tokayev refused to recognize the DPR and LPR, and also criticized Russian deputies and propagandists.
Last Monday, the country's President Kassym-Jomart Tokayev declared his commitment to friendly relations with Europe, and proposed to increase the supply of hydrocarbons to the EU to help solve the energy crisis.
On Tuesday, a court in Novorossiysk, Russia stopped the operation of sea terminals through which Kazakh oil was exported.
Kazakhstan is ranked 11th in the world in terms of oil production with 1.7 million barrels per day. 89% of this volume is exported, and most of it goes through the pipeline leading to Novorossiysk. The largest buyers of oil from Kazakhstan last year were Italy (17.9 million tons), the Netherlands (8.2 million tons), and France (4.5 million tons).