Ukrainians To Kalinouski Regiment Fighters: We Will Go And Liberate Belarus Together With You
23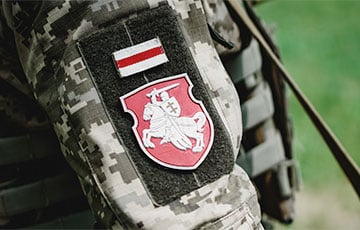 Volunteers defend the honor of the Belarusian nation.
Despite the fact that the Lukashenka regime is a co-aggressor in Putin's war, Ukrainians understand that the regime and the people are not the same thing. Thousands of Belarusians with weapons in their hands defend Ukraine from Russian invaders.
The website Charter97.org looked at the comments under the YouTube video with Belarusian volunteers posted by Ukrainian users. Many of them openly write that they are ready to help in the liberation of our country.
"A common disaster brought us together — the fight against fascism and terror. May God give strength to everyone to return to their families with a shield! Glory to Ukraine! Glory to all nations defending their freedom and independence!"
"For Belarusians, Ukrainians, Balts and Poles, freedom is like breathing air."
"Thank you so much. Well, thank you is an understatement — low bow to you! I already thought that Belarus was against Ukraine, but I see that you have normal people — let your angels protect you!"
"I never write comments, but you guys liberated a village 2 km away from mine. I wish you and your country freedom and prosperity, you and your people deserve it!"
"Brave, courageous guys who help Ukraine defend freedom, democracy and independence from the Kremlin's madness."
"Guys, Belarusians, we pray for you! May God protect you! You still have to rebuild Belarus."
"Belarusians, brothers! Thank you, my dear! Be alive and free! I wish Belarus all the best!"
"Thank you very much for showing and telling about Belarusians who do not agree with the Lukashenka regime, and defend Ukraine with weapons in their hands. At the beginning of the war, a lot of dirt was poured on Belarus and Belarusians for "complicity" in aggression. However, it is important for Ukrainians and Ukraine to understand that the regime and its helpers are one thing, while Belarus and Belarusians are completely different. The regime in an instant will go down the drain, and Belarus and Belarusians will always be neighbors. We believe in you, and your victory!"
"Thank you, Belarusian brothers, for your inexhaustible help. Know that our Ukrainian people will never forget this!"
"Entirely for the fact that after the victory you will demolish your Cockroach, and also punish him with all the Belarusian power!"
"Belarusians, thank you very much! We see who the real brothers are."
"Thank you very much, the real men, warriors of light, warriors of goodness! We are together and we will definitely win! The truth is on our side! We believe in a prosperous, progressive future for our countries! Let's go hand in hand! Glory to Ukraine! Glory to Belarus!"
"Thank you very much, Belarusians! We, Ukrainians, see your support. We see how your heroes are fighting on the battlefield for the freedom of Ukraine! We see how the partisans damage the railway so that Russia does not supply another batch of equipment for killing! We love and appreciate every Belarusian who empathizes with the grief of Ukrainians! You are a wonderful people who will soon be free from the dictator!"
"I love and respect Belarusians very much. Always loved and respected them. And everywhere, and always talked about it! (but not cops, civil servants and KGBists).
"Thank you, friends! You are real! Now there is a struggle not only for Ukraine, but also for a free Belarus. Long live Belarus. Glory to Ukraine!"
"Friends, I sincerely thank you for your position. I believe in the victory of our peoples! Thank you for your will and courage! Return home alive and unharmed to your relatives in the free Ukraine, in the free Belarus! Together to victory!"
"In the battles for Ukraine, the Kalinouski regiment honors the Belarusian nation."
"I thank the brave Belarusians for the joint struggle against the dictators of the Russian Federation and the Republic of Belarus!"
"Belarusians, you guys rock! Ukrainians will not forget this!"
"I am proud of the Belarusian citizens who are rebelling against the dictator Lukashenka and against Putin's Russian fascism."
"Belarusians who are ready to stand up for freedom and independence are real brothers for us. Thank you for protecting our peaceful sky, Ukrainian land and the life of Ukrainians. We appreciate it and are proud of you."
"We will go with you to liberate your country. With you to the end! Long Live Belarus! Glory to Ukraine!"
"Real men and warriors who, together with our Armed Forces of Ukraine, are building the future of our peoples and making history."
"Guys, you are heroes! You liberate not only Ukraine and Belarus, but also Russia!"
"Thanks to the guys for their courage and ability to analyze that they love their country and see that helping Ukraine means helping themselves."
"Belarus should know that there are people who have their own opinion, and are ready to defend their ideals with weapons."
"The fraternal people of Belarus proved that they are real people. They know what humanity is and they know the truth about an unjust war."
"If we liberate the whole of Ukraine, we will immediately liberate your native land. Wait a little guys! I will pray for all of you," the Ukrainians write.