New Recording From Not Yet Sinked Near Snake Island Cruiser "Moskva" Released
11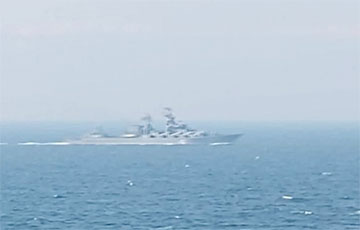 The Russian ship will be sent "to hell" shortly afterwards.
A recording from the board of the Moskva cruiser in the first days of the war, when the occupiers were offering border guards from Snake Island to lay down their arms, has been posted online, the UNIAN news agency has reported.
The Russians advised them to surrender and get flats, good salaries and pensions. The Rashists call the war "fratricidal" and also offer to serve in the Russian Armed Forces and live in "one great country".
"You have every chance of living a normal, honest life, not taking part in another 'fratricidal' war in the interests of your overseas 'masters'. If you refuse to participate in the "fratricidal" war and choose the right side, you will have the opportunity to make a decent living in civilian life, or continue to serve in the Russian Armed Forces with the prospect of career growth, a stable salary, solving housing problems... and live in a "big united country".
Ukrainian defenders are urged to make the "right decision" and keep themselves alive: to hang up the white flag, discharge their weapons and stop communicating with their commanders.
The border guards' phrase "Russian ship, go..." became a symbol of Ukrainian resistance in the first days of Russia's full-scale invasion.
The flagship of the Black Sea Fleet, the Moskva, was hit by two Ukrainian Neptun anti-ship missiles on April 13.
According to media reports, there were hundreds of sailors, including conscripts, on board the vessel at the time.
The mother of one of the dead crew members said that the Russians were on their way to a landing in Odessa at the time.
Russia hides real losses from the sinking of the cruiser; the Russian command also denies that the ship was hit by Ukraine.