"Alliance of Belarus, Poland, Ukraine and the Baltic States Is a Powerful Regional Bloc"
50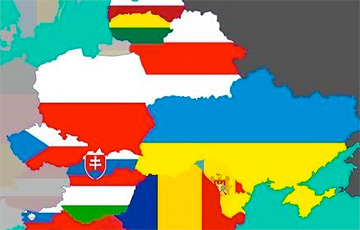 The AFU's victory will also mean the victory of the Belarusian democratic forces.
Oleh Bilokolos, foreign and security policy expert at the Maidan Foreign Affairs Foundation and former advisor at the Ukrainian embassies in Canada and Kenya, told Charter97.org about Kyiv's major victories on the international diplomatic front and how defeating Russia could change the security architecture in Europe.
- Ukraine has been defending its freedom and independence for almost three months now. How has the West's response and assistance to Kyiv changed over this time?
- The situation has been changing literally every week; we have all seen that. Let's say, there were weapons deliveries before the invasion. Then they stopped. After the invasion, there was a kind of pause. Frankly speaking, it was obvious that some countries were not sure of the outcome, not sure that Ukraine would stand. And only when Ukraine stood its ground they started to help it. You remember, first simple armaments, then heavy armaments. Every day, every week, the situation was changing.
Today, it is difficult to name a country in Europe that does not supply Ukraine with arms. And even those countries that have traditionally been more loyal to Russia's interests, let's say. And we receive weapons from practically all European countries.
- What are the key victories of Ukraine on the international front?
- I would call the meeting in Ramstein upon armament of Ukraine. One should do it on a strategic basis. That is, once some types of armaments of the Soviet models are used, the rearmament will be systematic on the basis of armaments of the NATO standard, if there is a long-term program.
- Sweden and Finland are likely to join NATO in the near future. How does it change the balance of power on the continent?
- First of all, it is a large-scale defeat for today's Russia. Everybody is writing and talking about it today. While the Soviet Union managed to win the loyalty of Finland and, let's say, the neutral status of Sweden, today's war has changed everything. Finland and Sweden has realised that neutrality does not save; they saw the consequences of the Russian Federation's attack. So, they decided to join the Alliance.
And these are two powerful countries. Finland has very motivated, professional and well-trained and equipped Armed Forces. Sweden has a very powerful defence industry. And all this is a contribution to NATO's potential, including geopolitical. This includes the Arctic, the approach to Russia's vital centres, NATO will dominate the Baltic Sea. It makes a significant difference, not just in the north of Europe but across Europe as a whole.
- Ukraine has not had a strategic approach to the Lukashenka regime for a long time, leading to an attack by Russian troops from the territory of Belarus. How should Kyiv build relations with Minsk today?
- Unfortunately, there was a kind of vague, I would say, policy towards this regime. The Lukashenka regime after the war is taken here as hostile, acting with the aggressor, and should be treated accordingly. At the same time, we know the Belarusians who disagree with the regime, understand that the victory of Ukraine means the victory of democratic forces of Belarus. Therefore, they are fighting today and, unfortunately, dying on the Ukrainian soil, defending the independence of Ukraine and freedom of Belarus.
- And how do economic relations between Ukraine and Lukashenka's regime look now?
- Frankly speaking, I am not ready to answer this question in details. I know there have been significant reductions in terms of economic cooperation. But one has to examine the material, look at the statistics. Judging by the information that I monitor at the moment, it is hard to say there is any communication in economic terms between Ukraine and Belarus.
- In a historical perspective, how will the security structure of Europe and the world change after the victory over the Russian Federation?
- I believe in the victory, but I'm not saying that it is already in our hands and guaranteed to us. There is a certain tendency to underestimate the capabilities of the aggressor, he still has a lot of power; he is insidious. The Kremlin will try to use any opportunity in terms of weakening some kind of international sanctions pressure. Yes, I believe in victory, as do all of us. But here one should get rid of excessive capriciousness and get ready for the serious and tough resistance, confrontation. We can see the maps, there are our victories as well as the territories that are under control of the enemy This is the first issue.
The second one is that today it is difficult to predict what the security structure is going to be. The world community will undoubtedly split up into these alliances that will stand for common goals. It will not necessarily be a European architecture. I think it will be some kind of global architecture. We see alliances today, for example - Britain, Australia, Japan, Canada. This system will most likely be built into some global system of groupings that will have such a situational character and will be determined by upholding some common fundamental values on which society stands. Given a conventional democratic grouping, it could be the United States, some European countries, Canada, Australia, Japan, possibly South Korea, possibly Taiwan, also some Latin American countries.
At the same time, there will be countries that will have a different viewpoint, also with resources: Russia, China, Iran, maybe someone else. I would not say that it will be exclusively a European system, because globalisation is going on today and manifests itself in different aspects. We can see that the situation in Ukraine has a significant impact on the situation in Africa, directly. Everything is intertwined and so far we can see it conditionally. We will be watching and will see this situation closer to the outcome of our war. But once again, I want to stress that, unfortunately, the outcome has not yet been seen. One should clearly understand this, because underestimation is fraught with errors.
- What potential is there for the development of relations between our countries when Belarus becomes free?
- It is simply a mighty potential. In alliance with Poland, the Baltic States and Belarus, we can build up a powerful regional bloc, which with its political, economic and military potential will have the right to have a voice even on a global scale. I wish it would happen soon.
There will be a lot of problems in Eurasia. And therefore, a close relationship with a neighbour is very important. We have to stand shoulder to shoulder with our neighbours and face all kinds of challenges together. The sooner it happens, the better it will be for everyone, especially in the region. I think it will be one of the most prosperous regions in Europe and maybe even in the world, because we will have great natural opportunities, intellectual potential, economic freedom. I think we would make a miracle.