Several Units of the Guards Motorized Rifle Regiment from Chechnya Revolted and Refused to Fight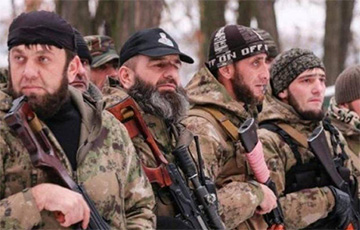 The soldiers demand their return to the Russian Federation.
Dissatisfaction with their involvement in the war in Ukraine is growing in the units of the Russian occupation troops. The Russian invaders are increasingly refusing to carry out orders from their commanders to conduct active offensive operations.
According to the Ukrainian Defence Ministry's Main Directorate of Intelligence, several units of the 70th Guards Motorized Rifle Regiment have already openly refused to take part in the war and demanded that they return to their permanent deployment sites.
"Unit commanders are trying in every way to conceal the facts of disobedience. The most active servicemen demanding their return to the territory of Russia, hoping for their imminent death, have been sent to the most dangerous section of the front. To identify and neutralize the initiators of the refusal for participation in the war, the FSB unit of the 58th Combined Arms decided to fill the units of the 70th regiment with their freelance agents and informers," the report reads.
The organisation in question is the 70th Guards Motorized Rifle Regiment of the 42nd Motorized Rifle Division of the 58th Combined Army, Southern Military District (hr 71718) in Shali, Chechnya. Shali, Chechen Republic.
"We remind you that all war criminals will be exposed and held accountable for crimes against Ukrainian civilians," the SID noted, publishing a list of occupants.
Earlier it was reported that according to intelligence, the Kremlin is looking for those responsible for defeats in Ukraine and punishing commanders of occupation troops.