Witold Waszczykowski: Lukashenka must leave
20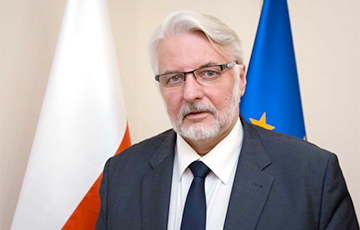 The Belarusian society will not return to negotiations with him.
How can the West help Ukraine win? Does it make sense to negotiate with Putin? Will the weakening of Russia create a chance for Belarus?
MEP, Head of the European Parliament delegation to the EU-Ukraine Association Committee and ex-Minister of Foreign Affairs of Poland Witold Waszczykowski spoke about this in an interview with Charer97.org.
— The Russian army has concentrated its main efforts in the east and south of Ukraine. What can be expected next?
— Analysts believe that after the failure of the capture of Kyiv, where the Russians wanted to occupy administrative buildings and create a government that would take power in the country on their behalf, they are switching their efforts to fighting the economic centers of Ukraine in order to deprive it of territories, to reach to industrial centers. Their goal is to capture the cities of Dnipro and Zaporizhzhya, cut off Ukraine from the sea, capture Odesa, and deprive Ukraine of grain exports. The goal is also to reduce the Ukrainian nation. A less populated Ukraine would be an easier target to conquer.
— How should NATO act so that, on the one hand, not to provoke the Russian Federation, but to make sure that Ukraine wins this terrible war?
— It is necessary to take three steps. First, cut Russia off as quickly as possible from the revenue the Kremlin uses to finance its military operations. Maximum sanctions, total isolation of Russia, not only industry, but also the isolation of Russian society, because this is not Putin's war — this is Russia's war. Putin has huge support for this war: in Russia, among emigrants, among Russian diasporas in Western Europe. So, first, cut them off from income.
Secondly, equip Ukraine with effective weapons.
Third, to strengthen the military presence in all countries that may become a further potential target for Russia: in the Baltic countries, in Poland, and Slovakia. Also in Georgia, which could be the next target. This is a very ambitious and costly task. But all this will be cheaper than a nuclear war with Russia.
— However, after the start of the war, the EU provided assistance to Ukraine in the amount of about 1 billion euros, but at the same time, the EU paid the Kremlin billions of euros by buying energy resources from the Russian Federation.
— The aid for Ukraine today is symbolic. The EU assistance for countries hosting hundreds of thousands (and in the case of Poland, more than two and a half million) refugees is symbolic or almost non-existent. However, money and cash continue to go to Russia.
This means that Western Europe values economic cooperation and the effects of this cooperation (i.e. cheap gas, cheap oil) with Russia more than the security and independence of Ukraine. This means that they still do not realize the threat of Russian imperialism, even after Chechnya, after Georgia, after the annexation of Crimea, Donbas and now, after the aggression in Ukraine. Many politicians in the Western world do not understand the true nature of Russian imperialism. They still want to stop the conflict on any terms, and return to economic cooperation with Russia.
This is a disaster, because these are the people who would like to pursue narrow-minded interests: buy low, sell high and win elections in their countries tomorrow. I call them "little profit-makers". They are not statesmen who think in terms of a generation, peace in Europe or the whole world.
— What needs to happen in Ukraine for Germany and other Western countries to really start acting?
—Indeed, something that we would not like can happen, like the enormous scale of the victims, which, perhaps, will touch the hearts of the Germans.
However, Germany must change its policy. What do they want? They cling to cooperation with Russia so much because they believe that cheap Russian gas will allow them to use it as a tool for dominating the European Union. And that's what this doctrine is based on. There is an expression "Russia is a gas station", and the Germans want to be a gas distribution station in Europe. And with this gas, they want to compete with coal-fired countries like Poland, even with nuclear ones like France.
So, in order to refuse to import Russian gas (which is one of the main sources of income for Russia, gives them the opportunity to wage aggression), one would have to change the political philosophy of Germany. Germany would have to give up its desire for hegemony in Europe with the help of this gas instrument, i.e. gas imports from Russia. So far, we don't see it happening.
— Poland is the only NATO state that borders on all sides of the war: Russia, Belarus and Ukraine. How high is the risk of further spread of hostilities to neighboring countries?
— In my opinion, it is very high. Russian politicians are already threatening Poland. Just as Putin once prepared an invasion of Ukraine, lied about the history of Ukraine, ridiculed Ukrainian society, mocked Ukrainians, a similar "preparation" began today: Medvedev has started saying bad things about Poland. It should be noted that for many years, the attack on Poland was practiced during the Russian-Belarusian exercise "West", during which a computer simulation of a nuclear strike was conducted.
Poland is now perceived as a country helping Ukraine, not only accepting refugees, but also as a channel through which aid is sent: both material and military.
And the purpose of the Russian attack may be to disrupt these supplies to Ukraine. Note that the Russians made it clear even before the start of the war that they would like to see the security architecture in Europe return to the pre-1997 state, that is, before the expansion of NATO and the European Union. They would like the entire strip of states lying between Russia and Germany to be a buffer zone, as the Russians say, countries of the "near abroad". Consequently, changing the situation in Poland is, of course, the goal of Russian imperial policy.
— The Poles, who have already accepted 2.5 million refugees from Ukraine, surprised the whole world with their level of solidarity and support. Is there enough infrastructure, enough financial resources to continue accepting so many refugees if the situation does not improve?
— Of course not, because we already have two million six hundred thousand refugees, and this number will increase as the conflict escalates. As Russian aggression develops, unfortunately, more refugees can be expected.
We are already at the limit of acceptance, especially since we operate on the principle that we do not send refugees to real camps, because we believe that they should be included in the life of our society. Should be able to enter the labor market, get a job, get health care and education for children.
We treat Ukrainian refugees as residents of Poland. They have every right except political and civil rights: they cannot vote. In Poland, they are provided with all economic and social guarantees.
It must be remembered that before we opened the borders, we already had about a million migrant workers from Ukraine working in the Polish market. Of the two and a half million that we are currently accepting as refugees, about a million more could probably be employed on the Polish market, but this is less than the total number of arrivals.
The inclusion of children in the school system will be a very big problem, because, according to our estimates, about 700,000 school-age children have come from Ukraine. We have already opened schools, about 150,000 children are studying in schools — the classes in schools are already full. We have tens of thousands of Ukrainian students. We may be able to take in a few thousand more.
But, indeed, we are approaching the limit of accepting refugees. We don't want to lock up refugees in camps because we want to avoid the "Palestinization of refugees" that is happening in the Middle East. We would not like to create any special ghettos for refugees in the cities. We treat Ukrainians like brothers. This is a very related, close culture, a very close language. And we believe that we can live together in society.
But we need help in creating new jobs, in creating social and educational programs. We, the deputies of the European Parliament, appeal to the EU with such a request. And Prime Minister Morawiecki recently applied for such an EU aid project. We do not ask for resettlement, we do not want to send Ukrainians anywhere. We are ready to welcome everyone in Poland. But we need financial support to help them.
— Speaking of Russian imperialism, should Carthage be destroyed or is it still necessary to negotiate a peace agreement with Putin?
— No, you cannot negotiate with Putin, because he will only accept the peace that completely subjugates Ukraine, if not half of Europe (this is his goal). I do not agree to such negotiations.
I think that sooner or later it will come to a confrontation with Russia. Perhaps not by combat means, but it will need to be defeated. It must be defeated economically, that is, by very tough sanctions, even tougher than the current ones. Sanctions should cover a large part of Russian society, because this war is not Putin's war, but the war of Russians against Ukraine. And a considerable part of Russian society should feel the cost and pay for this war. Today they don't feel it.
So far, macroeconomic sanctions are being introduced, which can give results in two to three years. Instead, there should be sanctions that completely close the access of Russians to the Western world. We are talking about artists, athletes, scientists, tourists and students. They should feel the price of supporting Putin. It is necessary to make sure that they cannot do anything: they cannot go to Warsaw, Prague, Paris, they cannot buy anything, they cannot send their children there, they cannot warm themselves in the sea, they cannot work in Western Europe either as scientists or as translators, not as advisers. Then, perhaps, they will begin to turn their backs on Putin and condemn his aggression.
— Do you see a chance for the Belarusian people in what is happening?
— Oh sure. We have been creating such chances for Belarus for many years. Poland advocated the Eastern Partnership program.
I, too, when I was the Minister of Foreign Affairs of Poland in 2016-2017, tried to establish a dialogue even directly with Lukashenka. And I told him directly: "You have an alternative. You are not doomed to cooperate with Russia and Putin. You are not doomed to submit to Putin, because Europe wants to cooperate." My policy received the support of the European Commission at that time, the support of Federica Mogherini (former EU High Representative for Foreign Affairs and Security Policy — edit.)
But Lukashenka did not accept this proposal, considering that this was not enough or that he did not trust us. As a result, he remained in power, rigged elections and moved to totalitarian power. Today, there is no alternative, because the democratic Belarusian society will not return to negotiations with him. He must leave.
The experience of the Belarusian society will someday pay off. The experience of those who protested against Lukashenka, these women who led the protest movement, are recognized by the world as representatives of democratic Belarus. And the Belarusian issue will definitely not be forgotten. When Putin's power and regime is weakened, we will also try to weaken Lukashenka's regime, and lead to a change of power in Minsk.