Political Prisoner From Hrodna Sentenced To Nine Years In Penal Colony
3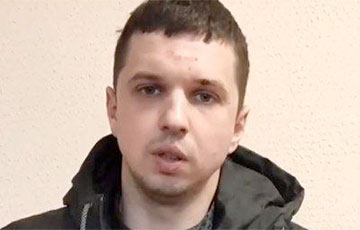 He was tried under nine articles of the Criminal Code.
On November 16, 32-year-old Siarhei Nialepka was sentenced to nine years' imprisonment under nine articles of the Criminal Code, reports Viasna.
Judge of Hrodna Regional Court Viktar Sianko found the political prisoner guilty under Part 1 of Art. 309 ("Wilful unsuitability of means of transport or means of communication"); Part. Art. 295 part 2 ("Illegal actions in relation to firearms, ammunition and explosives"); Art. 364 ("Violence or threat of violence against an officer of internal affairs bodies"); Art. Art. 361(3) ('Call for restrictive measures (sanctions), other actions aimed at harming the national security of the Republic of Belarus'); art. Art. 293(1) ('Mass riots'); art. part 1 of art. 368 ("Insult of Lukashenka"); part 1 of art. art. 130, part 1 ("Incitement of racial, national, religious or other social hatred or discord"); art. part 2 of article 366 ("Violence or threat against an official in the performance of his official duties, or against another person performing a public duty"); article 369 ("Insulting a representative of the authorities") of the Criminal Code.
It is known that the prosecutor asked to sentence Nialepka to 16 years in prison, but Judge Sianko limited himself to nine years in a colony.
In March 2022 Siarhei Nialepka was detained by the Main Department for Combating Organised Crime in Hrodna region. In December, the KGB put Siarhei Nialepka on the "list of terrorists", so he is not allowed to make money transfers.
You can support Siarhei with letters of solidarity and parcels to the address: Siarhei Nialepka, Prison #1, 230023, Hrodna, Kirov Street, 1.