'When I Found Out The Amount Of My Pension, I Nearly Fell Off The Chair'
57
19.01.2022, 23:20

110,778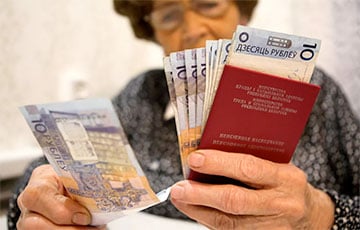 Stories of Belarusian pensioners from the regional center.
Several residents of Baranavichy told Intex-press what pension they receive, what they spend it on, and what they do in their free time.
Safiya Khreschykava, 72: "I was waiting for retirement to finally put my health in order"
– I worked as a seamstress in a knitting factory for about 30 years. Now I am retired. Living in retirement is cool (gives a thumbs up sign, smiles - edit.)
My work was physically demanding. I remember how my back constantly ached, but there was no one to complain to - I had to raise the children. They paid fine. Over the years, of course, it became more difficult - eyesight fell, legs swelled. As a result - the second degree of disability at the age of 52. I was in the hospital for a long time, I had two strokes, but God gave me a chance to live on, so I am now on my own feet and with memory.
I continued to work after illness until retirement. I was waiting for retirement so that I could finally put my health in order. I was not going to look for a job in retirement - let young people work, I've had enough work.
My pension is a little more than 600 rubles, but this money is enough for me. Before retirement, I was paid a salary and a small disability allowance, and when I retired, there remained only a pension, but a little higher than others due to disability.
I don't want anyone to have a disability. You feel weaker. And every year you need to go to the hospital for an examination.
I live with my son in my house. The son pays for the utilities. I only pay 20 rubles for my home phone - I like to chat.
After a stroke, I got a dog so that I would have an incentive to go out for a walk in the evening. My son brought a mongrel from work - now he lives with us. I immediately decided that we would keep him. I do not spare money on food for Tuzik (this is how we named him): I take both dry and canned food, and also some drops from parasites. The last time I gave away almost 40 rubles from my pension, I bought food and a new collar.
I leave up to 50 rubles at the pharmacy, although I buy medicines on a discount. I buy not only medicines, but also vitamins, herbal teas.
I often go to the store. If you are not a stupid person and not lazy, you can navigate the prices and always find a lot of products on sale. One trip to the store costs me about 20-30 rubles.
There are many temptations in stores to buy something. Earlier, I didn't spend much on myself, I bought more for my children. Now I don't save on sweets, I buy Belarusian sweets from the Kommunarka factory, and cheese for tea. But I save on all sorts of sauces - I have my own small garden, so in the summer I make lecho myself, tomato sauce.
As for entertainment - it's mostly TV. We watch TV with a friend regularly, especially the news, to stay abreast of what is happening in the world and in our country. But I don't watch TV shows - they are shallow.
I signed up for a Nordic walking club. A priest comes to visit us. Free tours are often organized. The last time, for example, we went to Niasvizh. I liked it very much, they only charged 2-3 rubles as a fare. We didn't pay for anything else.
I like life in retirement, I have a lot of free time and enough money. Only now it's a shame for the youth, for the grandchildren, because their salaries are less than my pension. This is unfair.
Lizaveta Karanets, 63: "All my money goes for food and utility bills"
- I have not been retired for long. But I already managed to "grab some joy". I have been working in a meat packing plant all my life since I was 20. At first I was a molder in a sausage shop, then in packing, the last job was a trimmer. The hardest. All the time on your feet. My hands are so worn out, the veins bulge terribly. I have hands like those of an 80-year-old woman.
While working, I somehow did not think about retirement. I was healthy then. There were no other health issues, except for the hands. When I found out about the amount of the pension, I almost fell off my chair. It turns out that I spent half my life pulling veins for 382 rubles - this is my pension. It was insulting to tears in the literal sense, when the neighbors who worked at the computer said they had 500.
But what could I do? We all need to live somehow. Thanks to my daughter - she helps me with food and money. I don't go to the store very often. I take mainly potatoes, carrots, beets, milk, kefir, and the long-loaf bread. If I take chicken meat, it's usually a whole bird, it is more profitable this way. I pay about 8-9 rubles for it, and then I cut it up: a part for frying, a part for soup, the breast goes for salting - sometimes I want to nibble on some meat. I often make vinaigrette from vegetables, add beans, and pickled cucumbers. It is filling and healthy.
I spend a lot of money on food - about 250 rubles. The prices in the store are crazy now, so you can barely survive for that money.
I used to often take offal (chicken hearts, liver), but now they have risen in price greatly. I always try to eat porridge in the morning. Thanks to my daughter, she brings me meat, bacon, frozen fish, sweets, and cookies for tea.
I have my own house. I pay about 60-70 rubles for utility services. I save light, the light is off in all my rooms, and in the evening I turn on the night light. I heat with firewood - again, my daughter orders, and they deliver it to me. Water doesn't just flow. All my money goes on food and utility bills.
In my free time, I watch TV, read newspapers, and my grandson comes to help around the house. Those are my hobbies. In the summer it's easier - I have a garden. Pears, apple trees, cucumbers, onions. By the way, I dry a lot of pears and cook compotes in winter. This is how I live - boring, but peaceful. My pension is small. But the most important thing would be health, we can handle the rest.
Siarhei Vouk, 81: "What do I, an old man, need?"
"I have been working all my life. I even worked for ten years while in retirement. First, in the youth, for about 7 years, I was a projectionist in a village club, then I worked on the railway as a mechanic in a depot for about 20 years. A turner at the factory. And in retirement, I worked in a stoker, because they appreciated me at work, and it was next to my house. I worked for 10 years in retirement. My children tried to dissuade me, but we old people got used to work.
While my wife was alive, we always planted vegetable gardens. We had a plot both near the house and in the field. We rarely bought groceries, everything was our own: home-made canned food, different sauces, lard, meat, chickens. We grew chickens, pigs. Our garden was large, we used to make a whole cellar of compotes.
My pension is now under 700 rubles. Money always remains. What do I, an old man, need? I still have chickens, my daughters-in-law supply canned stuff. I can buy everything, but I don't have a good appetite. Not the same appetite as in youth. Now my teeth are creaking, I have gout, constant pain.
I don't even notice how much money I spend in the store. I just buy whatever I want. But all the same, chicken, bread, milk, butter - that's 30 rubles already. I love gingerbread and bananas. The home phone is turned off, the children gave me a mobile phone. I pay 20 rubles a month for it. There is a boiler in the house, there is a Russian stove. I have a cat and a dog. My son lives next door, he does not let me get bored. But he has his own life. And I'm still alone.
I go to bed at 8 pm, get up at 6 am. I make sure to pray before going to bed, I read a lot. In the morning I feed the cat, the dog, and the chickens. I clean up something in the garage, do some cooking. And so another day goes by.
When I receive a pension in the post-office, I always take a lottery ticket. If I win, I will give the money to my grandchildren. And I buy newspapers for 5-10 rubles, where there are life stories and articles on health.
I watch TV in the evening. I love Mukhtar and Zone-X. Grandchildren rarely come, they live in another city.
My whole life has gone by like a week. So appreciate now your young time.
Eudakiya Zubrytskaya, 75: "We don't save on food, but we don't buy shrimp and caviar"
"I didn't have just one job. I worked as a concierge in the hostel for about 25 years, and at the winery as a cleaner. What to say? I've been living like a zombie for the last year. Eating and sleeping. My daughter died last year, so I don't have much vivacity.
My pension is decent, I get 614 rubles. I live with my husband and son-in-law in an apartment. There is enough space for everyone, the same is about money. My pension, my husband's, and my son-in-law still works. A lot of money is spent on food, men love to eat. We regularly eat meat, fish, and fruit. Most of the money is spent on meat and chicken.
We buy whole carcasses from farmers for 150-200 rubles, and then I divide: something goes for soup, something to fry, something to pickle and smoke. We often go to the market to buy farm milk and cottage cheese. But we don't take sweets at all, because I am an insulin-dependent diabetic.
I pay the 60-70 rubles rent for a communal apartment. I rarely wash clothes, but we watch a lot of TV, almost never turn it off. Sometimes we play cards or dominoes with our family, we like to read newspapers, scanwords. In the evening I try to go outside a little, so as not to get used to sitting at home.
We visit our neighbors every evening: we drink tea together, joke, speak about grandchildren - it's more fun that way. And I never spare money to somehow please the neighbors. The last time on the day of the elderly I bought a cake for tea, and a big 2022 calendar for everyone. I enjoy giving presents, it's nice when I see that a person is happy and smiling. Sometimes I indulge myself. For my birthday, for example, I bought a new tablecloth for the house. I'd buy a new board, then I'd update the plates - little things, but I'd leave 20 rubles in the store.
My daughter-in-law brought me a cat. At first I didn't want it, but now I'm happy. At least some kindness and care. I named him Coalie.
I also have a garden in my backyard. Although I walk with a stick on the street, and my eyesight fails, I still plant a little garden. Necessarily greenery, onions, cucumbers and strawberries (my daughter loves them very much). The son-in-law then rolls cans, so there is always canned food in the house. We never save on food. Haven't we earned a meal in a lifetime? Of course, we don't buy shrimps and caviar – we are used to our simple food. But we always buy vegetables and fruits, there are vitamins.
But what we really save on is clothes. Why do we need it now? Over the course of a lifetime, so much has accumulated that the wardrobes are cracking. Yes, we mostly stay at home.
Although there is enough money, it flows like water. Guests often come to us (nephews, grandchildren, friends), so I always set a rich table. 100, and even 200 rubles go away: I cut plenty of sausages on the table, vegetables, but they are now expensive.
I give money for anniversaries, for relatives' weddings (50-100 rubles). Now I'm going to help my grandson buy a car. No need to regret. The main thing is to be healthy. Now this is the most important thing.
Lyudmila Barysik, 83 years old: "I spent about 100 rubles on medicines in one month"
- I'm still quite young (laughs - edit). Retired for a long time. I worked in the green farm, where tulips are grown, for about 35 years. All of my life passed in the flowerbeds. Whether at work or at home. Then I did some work in accounting. I retired due to my age, I didn't continue to work - I have many grandchildren, I had to help the children to nurse them.
I don't complain about money, pensions are often raised. Now I receive 640 rubles. I haven't gone shopping for a long time, because I had an eye surgery, and I can't see very well. In addition, after a microstroke, I often feel dizzy. Here I sit in front of the TV. It seems that I would get up, go to the market, I want to see what's new in the city, but I can't physically.
My daughters, grandchildren and a neighbor shop for groceries for me. I always ask them to bring back a receipt. I always give them money for food, I receive a pension. I order something from them. Sometimes you want chicken, meat. And sometimes only fruit, cheese. They don't bring me food for less than 20 rubles. Like, 20 rubles, but there is nothing special to put in the fridge.
That's when the old money was with zeros, then for 20,000 you could take something for 3-4 days. Previously, sausage cost 8 rubles in today's money. And now it's much more expensive. I think that they tricked us with prices.
The price of food goes up. For example, I like to drink tomato or multifruit juice, but I think that almost 3 rubles for a pack of juice is expensive. But medicines are especially expensive. I take different drugs. This month, my back also hurt, so I was given injections. So, about 100 rubles were spent on medicines in one month.
I have a good relationship with my neighbors, there are four friends in the community hallway. My girls come every day - we
watch different programs on TV and drink tea.
Often children and grandchildren come to me. More often grandchildren, they like me, say that I cook tasty pancakes. I always try to give them some cash for travel, for some little things, five rubles each. But for birthdays, I always give children and grandchildren 50 or even 100 rubles. I think that they need money more - they are young, they need everything: beautiful clothes, something for the house.
If we had today's money in the old times ... Then I had three children, I had to feed them for something, buy them shoes. We always borrowed money, there was not enough of it.
In general, I do not complain about my life in retirement. It's just that my life was much more interesting, there was enthusiasm, vitality, fun, when I was young. And now the nights are long, and I have insomnia. You just live like a worthless person. But I want to live anyway, to see my great-grandchildren.