Heavy Cargo Carrying Smuggled Belarusian Cigarettes Worth EUR 18 Million Stopped In Latvia
14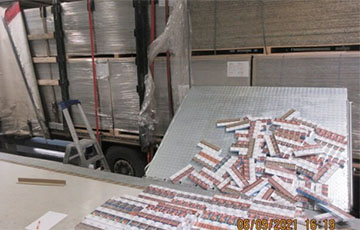 According to the documents, the truck was transporting fiber cement slabs.
The Russian heavy cargo, filled with Belarusian cigarettes, was stopped by Latvian customs officers on September 6, DELFI reports.
According to the documents, the truck was carrying fiber cement slabs from Russia to Latvia, but during the inspection of the semi-trailer with the scanner, hiding places were found in the cargo, in which more than 9 million packs of contraband cigarettes were transported.
The amount of taxes unpaid to Latvia for illegal cargo amounted to approximately one and a half million euros. Earlier, the Lithuanians calculated that a pack of contraband cigarettes cost about 2 euros, that is, the estimated cost of the consignment is 18 million euros.
According to the research conducted by the company Nielsen, the share of smuggling in the tobacco market in Latvia now exceeds 18%. That is, almost every fifth pack is illegal. At the same time, almost 80% of smuggled cigarettes in Latvia are of Belarusian origin, as well as in Lithuania.
In the first half of 2021, Lithuanian customs officers found a total of 8.8 million packs of cigarettes in hiding places, which they illegally tried to import into Lithuania. Most of them are products of the Hrodna tobacco factory. About a quarter of all contraband came from the Kaliningrad region of Russia, 75% - from Belarus.
However, in Poland the volume of seized cigarettes increased slightly in monetary terms in 2020 compared to 2019: from 95 million zlotys in 2019 to 100 million in 2020. The share of Belarusian smuggling in them increased from 4.7 million zlotys to 27 million.
But this year, our western neighbors had enough work: record-breaking batches were pouring out of a cornucopia. On May 7, Polish border guards managed to intercept the largest smuggled consignment of Belarusian cigarettes in history: in railway containers that arrived at the terminal in Terespol, they found 2.5 million packs of cigarettes with an approximate value of 37 million zlotys (8 million euros, or almost 10 million dollars).