"We Have Several Reasons Not To Go To Work Today"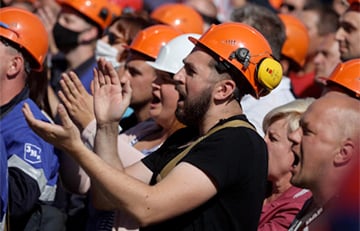 Let's tighten the ranks, prepare for a strike.
Everyone chooses for himself: to stay home or go to work. However, at the same time, everyone understands that he is responsible not only for himself, but also for his family and friends, for his colleagues. Today we have several reasons not to go to work. One of them is the health of us, our parents, our children. The coronavirus doesn't stand still; it doesn't even crawl like a turtle. Every day there are more and more people infected, the hospitals are already full. And the problem here is not with medics, but with our medicine. With the system, which is only used to count money, says the telegram channel of the "Belarusian Association of Workers" (BOR).
Is it possible for medics to go on strike? We are sure that they will come up with their own method of supporting the factory workers: to receive everybody orderly, without clientilism, to refuse to work overtime, to work within the framework of the regulations. Even this would be enough to get their whole system down. After all, right now, doctors aren't doing everything they're supposed to. Right now they are doing everything they can. And we can help them with that.
By staying home, we workers will reduce the risk of contracting and spreading the coronavirus. We help ourselves in the first place and save the medics, help them change the system in the future.
Let's tighten our ranks, let's get ready, let's not get discouraged.
Let there be a strike!