Inside: Situation in Agriculture in Belarus Is Close to Disaster
15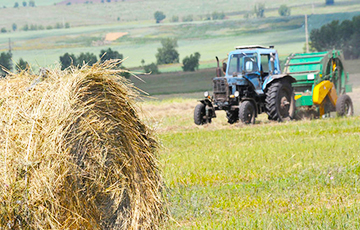 In some regions, yields have rolled back to the level of the 90s.
Official figures of the Ministry of Agriculture of Belarus appeared on its website, writes the Nick and Mike telegram channel.
The extremely modest grain harvest has already been mentioned. The drop in both the total threshing capacity (by 20 percent) and the yield per hectare (by 18 percent), although the neighbors have no drop at all, is a sentence for the entire agricultural system of Belarus. In some regions, yields have rolled back to the level of the 90s.
But the problems are much broader. Silage harvesting is slower by 3.4 percent compared to last year, grass fodder - by 4.6 percent. In general, the amount of grass fodder harvested per head of livestock has also decreased. And there is already cold weather outside.
Well, and we must bear in mind that these are official data - already carefully retouched. If the ministry had the will, the data would also be classified as statistics on covid and mortality (unfortunately, the topic is again becoming relevant, we highly recommend keeping all precautions and, at the same time, voting in our poll).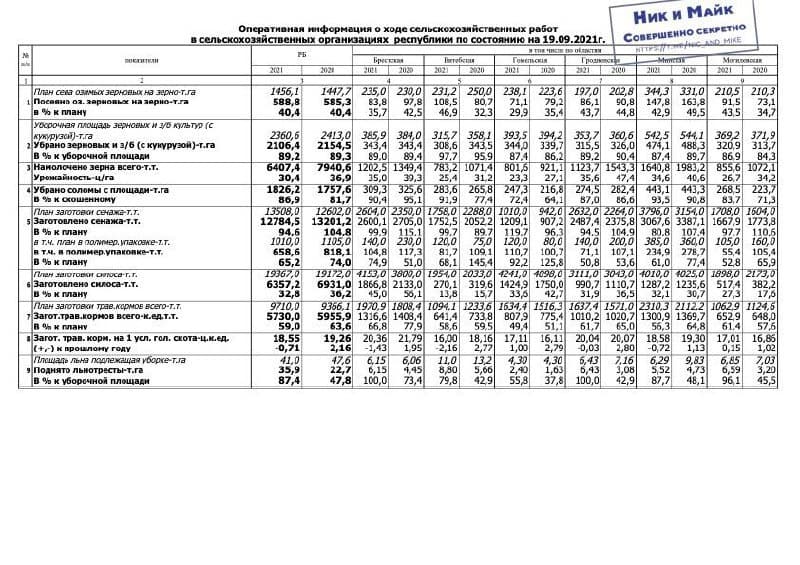 The above table cheerfully reports that the rate of sowing winter crops is proceeding exactly according to the schedule. However, according to Nick, the situation is close to a catastrophe. Funding has been cut and is coming late. Sometimes there is not enough money not only for fuel and spare parts but also for salaries. Sowing happens somewhere not thoroughly. So what? The results will be visible only in the spring, and here the task is to stand the night and hold out for the day.
The cattle situation is also catastrophic.
We remind you that everyone can go on strike. Including workers of agricultural enterprises. You have been cheated for 25 years. You get paid pennies for the milk you produce. Your salaries are closer to 500 rubles than to the 500 dollars that Cinepal is talking about. The indicators of neighbors, where there was a shift from collective and state farms to private agriculture, indicate that Belarus is far from the most advanced path.
Show who's boss. The channel's flash mob on the strike continues.