Head of the Belarusian Football Federation Bazanau to Be Jailed?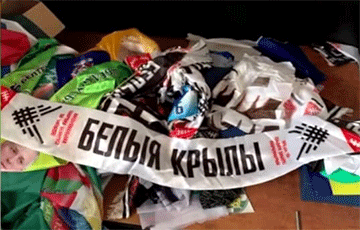 The Ministry of Internal Affairs considered the official scarf of the Belarusian national football team as a "protest symbol."
Rooting for the football team in today's Belarus is not only difficult but also unsafe. A vivid example is the story of Tribuna's correspondent Dzmitry Ruto, who was detained in June and arrested for 15 days for the official red-and-white scarf of the national team left in the car, Tribuna writes.
Another significant case occurred on September 13th. On the YouTube channel of the Ministry of Internal Affairs, a video appeared in which an employee of the GUBOPiK with a hidden face and a changed voice reports on the arrest of another "destructive Belarusian". The 47-year-old head of a production and advertising company in the Minsk region is accused of making "attributes with unregistered symbols." A voice-over reports that his "business has been successful thanks to numerous unauthorized actions and orders" (and why were there so many of them with the official 80 percent of the votes for Lukashenka?). Now the security forces are checking the detained man "for illegal activities related to protests," and "protest symbols and equipment for replicating thematic products" were confiscated from his printing house.
The footage of the search mostly shows white-red-white and Pahonia. However, the Interior Ministry also considered several football accessories to be "protest symbols." One of them is the scarf of the Belarusian national team White Wings. The Football Federation of Belarus together with Macron officially presented this brand and attributes in 2016. You can buy items from this collection on the manufacturer's website and now - in the football federation's merch section.
Also, a sheet with the Krumkacho logo was attached to one of the white-red-white flags. No, not printed on it, but attached to it - and who came up with the idea of such strange paraphernalia?
I don't think anyone can better describe this situation than the parody account of Uladzimir Bazanau.