Song "Long Live Belarus" Played After Scored Goals At Belarusian Soccer Championship Match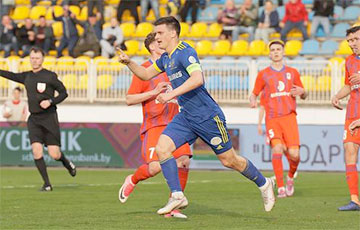 Video fact.
The match of the Belarusian soccer championship between "Homel" and "Vitsebsk," which ended with a score of 4-1 for the team from the banks of the river Sozh, had several interesting moments, having nothing to do with sports.
Vitsebsk player Julio Cesar, being yellow carded, elbowed his opponent on the head, but was not sent off the field. 81 minutes into the match, the Brazilian was still penalized and left the field. At this point, the fans began to chant "Leave!"
And after the scored goals, the tune that is very similar to the part of the TOR BAND song called "Long Live Belarus" is played at the "Central".