The Time Has Come
3
Andrei Sannikau
17.08.2021, 18:33

17,784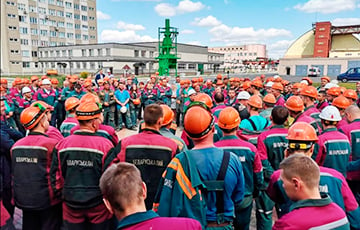 The strike movement should become as massive as the street protests were a year ago.
A year ago, on August 17, miners began a strike in support of change in the country. The workers created a strike, which put forward the main demand - the resignation of the dictator Lukashenka. The strike at Belaruskali became a landmark event of the Belarusian revolution, tangible support of the nationwide protests against the hateful dictator and his henchmen.
Tough repressions immediately fell upon the strike of Belaruskali. Striking miners were arrested, imprisoned, forced out of the country, blackmailed, bribed, intimidated, and denied all rights.
Despite all these criminal actions of the Lukashenka regime, the strike survived and continues to fight together with everyone for a free and independent Belarus.
The announcement of the strike meant the continuation of the traditions of the miners, who did a lot in the first years of our independence to protect the rights of workers, to defend the dignity of working people in Belarus.
Today I would like to remember one of those who stood at the origins of these traditions. Leanid Markhotka was among the organizers of the independent trade union, the first march of the miners Salihorsk - Minsk, actively supported and advised the current strike. In March of this year, Leanid died of covid, and, in fact, died due to the criminal, inhuman policy of the Lukashenka regime during the pandemic. Blessed memory of the hero of Belarus.
The strike became one of the brands of free Belarus, exposed the crimes of the lackey administration of Belaruskali, corruption, and neglect of workers' rights.
The strike at Belaruskali is already significant in historical terms, but it will become more significant when all those thousands of miners who support it but have not yet become its active participants, join it in person.
The time has come!
The strike movement should become as massive as the street protests were a year ago. This will help both strikers and protests.
Together until victory!
Andrei Sannikau, leader of the European Belarus civil campaign, europeanbelarus.org