Doors Open Day In Ward N 6
26
ANDREI SANNIKOV
14.07.2021, 17:15

51,474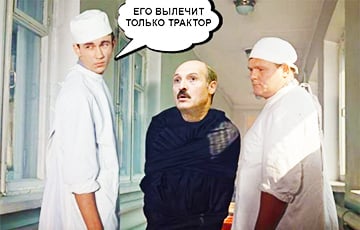 No one in Belarus believes this delirium anymore.
What Lukashenka has really managed to do so far is to play dumb at his meetings with Putin and make Putin look like weak-minded.
Here the tsar of All Russia, the coryphaeus of all sciences and the author of a fundamental work on Ukraine, is sitting and listening to identikit utter rubbish.
There Nick and Mike with Merkel are confessing to Lukashenka about poisoning Navalny, then Biden with a literary scholar and a lawyer are preparing to kill Lukashenka - "then who's going to fight for you, Vova?" Or hamas (with a lowercase initial letter) is sending telegrams to air traffic controllers through the KGB, or sleeping sabotage groups are waking up, starting to cut propagandists' tongues and bring about personalized terror.
I don't know about Russia schooled in Kashpirovsky and Zhirinovsky, but in Belarus, nobody believes this delirium anymore. For a long time now.
However, Putin shows to the audience of millions of people that he believes, and only the prancing he is doing with his legs, when sitting in the chair, is getting more and more complicated.
Or does he really think it is vital for the Soviet Union to return as quickly as possible?
Having listened to Lukashenka's apocalyptic tales about how the entire Belarus has turned into saboteurs, who threaten the defenders of the dictator's body and himself from behind each corner, Putin usually utters something like: "BelORUSSIA remains a great and reliable economic partner for Russia". Or else he says: "Russia remains the key trade and economic partner of BelORUSSIA - we are observing a considerable growth in trade turnover". Or - even worse - he pins it down, "We have high-level commissions, which deal with such issues".
And then he promises money and reassures with his full understanding of the pathetic hatred towards the West, assuming "I am that man myself".
Is it for real?
Is it so simple: to tell a pack of lies and get Russian taxpayers' money for it?
Is this how decisions are made in a nuclear-weapon state?
Seems like Ward N 6 Doors Open Days are underway.
Andrei Sannikov, Facebook