Free Belarusian Musicians Wish To Participate In Eurovision As Guests
5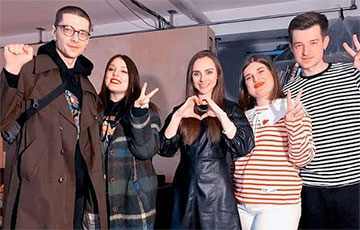 The artists can perform a song called "Love shine a light".
The Belarusian Fund for Cultural Solidarity appealed to the producers of Eurovision with a proposal to allow Belarusian artists to take part in the international song contest, which is taking place in the Netherlands in 2021, as "musical guests", Deutsche Welle reports.
"We suggested that NaviBand and VAL, which are already well known in the Eurovision family, perform together with opera singer Margarita Levchuk in one of the intervals," said Head of the fund Siarhei Budkin. It is clarified that the artists could perform a song called "Love shine a light", with which the UK won the competition in 1997.
Initially, Minsk planned to send the Galasy ZMesta band to Eurovision-2021. The musicians do not hide their sympathy for the regime of Aliaksandr Lukashenka, but the European Broadcasting Union eventually rejected their song "I will teach you". This decision was justified by the fact that the performance of the Galasy ZMesta band, according to the organizers, violates the Eurovision rules, which imply a non-political nature of performance, and may damage the reputation of the competition.
This was the second application of Belteleradiocompany to participate in Eurovision-2021. The first application was rejected by the European Broadcasting Union for a similar reason.
Eurovision Song Contest 2021
The NaviBand participated in Eurovision in 2017. The VAL band was supposed to represent Belarus at the Eurovision 2020, but the competition was canceled due to the coronavirus pandemic.
In 2021, the Eurovision Song Contest will be held in Rotterdam from 18 to 22 May. It is planned that the performers will be able to perform in the Netherlands, given compliance with all measures to combat the spread of COVID-19.