'Strike Will Happen By Itself Soon'
5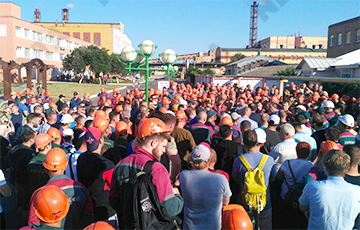 The situation is developing exactly the same as on the eve of the mass protests of workers in 1991.
The "Real Belarus" Telegram channel published the opinion of one of its subscribers:
- I want to say to all those who are sitting and shaking with fear to lose their job and beggarly salary, you will lose it soon. All those who are afraid to go on strike, well, you don't want to go on strike now, so you will go on strike later, for the reasons that are beyond your control. The economy will collapse, devaluation will do its job. Sadly, most of the population is ready to act only when it comes to the point when a crisis affects everyone, and severely.
Soon the strike will happen by itself. The situation is developing exactly in the same way as 30 years ago, when mass protests of workers began on April 3, 1991. After all, then most of the workers were happy with everything, but until the moment when prices rose by 70% during one week. I am convinced that the situation will repeat itself soon.
Devaluation will do its job, and in conjunction with sanctions, lack of funds, the situation will escalate.
The regime is already running out of money, and in attempts to get it, there are already salary delays, reductions in allowances and bonuses, by the end of April many will see the real state of affairs, and in May delays and non-payments will become massive.
So if you thought that you would move out and carry over, I can say with confidence that it will not happen.
Well, on the other hand, if you cannot be stirred up in any other way, then so be it. In 2-3 months you will fully feel the care of this "state", although it was possible not to bring it up to this point, but to solve everything in 2 weeks. So, let's wait and see.