In Kupalauski, They Try to Find Actors for the Third Time
15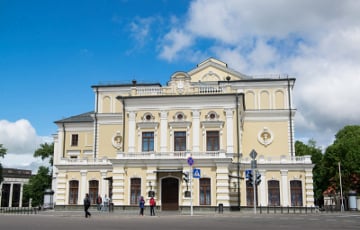 What's going on in the theater?
The Kupalauski Theater announced new competitive recruitment of actors, which will take place on May 25. Information about this appeared on the team's official website, tut.by writes.
This is the third attempt to recruit actors for the troupe.
The first took place back in November 2020. Zinaida Pasiutsina, professor of the theatrical creativity department of the University of Culture (BSUCA), sent her students to it. Also, the audition was attended by students of other courses, as well as from Babruisk, Homel, Maladzechna.
Five students of Pasiutsina passed this audition: Illia Kruk, Stanislau Artsemieu, Sviatlana Hulevich, Marharita Harbachova, and Nadzeya Azarenka. Also, according to the selection results for work in Kupalauski, Anastasia Varankova, a second-year student of the Belarusian State University of Culture and Arts, and Vasil Sushytski, who previously worked at the Youth Theater, were recommended to play in serials. All of them took to the stage in the play "Paulinka," which was shown in early March 2021.
The second competitive selection took place on March 24. As reported on the website of the theater, according to its results, "the acting troupe of the theater was replenished with new names." But their names are still unknown.
New recruitment has now been announced.
As for the work of the theater, a poster for May has already appeared on its website. There are still two performances in it - the aforementioned "Paulinka" and "Evening." This performance was staged back in 2006 by director Valery Raeuski. The production was also restored in March this year. However, unlike "Paulinka," this was much easier to do. There are only three performers in the production. Two roles are played by the actors who remained in the troupe after the August events. Vasil Sushytski was brought in on the third.
Also on March 31, press secretary Mikalai Zayats was fired from the theater. The order on his dismissal indicated the following reason: "In connection with the hiring of an employee for whom this work will be the main one" (Zayats worked part-time in the theater). But there is still no information about the new press secretary on the theater's website.